HTC M8: A mobile with 2 cameras | Can the dragon with two heads beat the dragon slayer this time? | HTC One (M8)
I am surprised how the news travels in the modern day!! If you are an active user of any of the social networks, you are sure to grab news that can interest you. My eyeballs stuck on this picture. I just am imagining why would a mobile need two cameras on its rear side?
Competition these days are too high. There are lots of things at stake : loads of money, reputation, market share. Many times these lead to a blurred vision in the innovators mind. Companies like HTC, Apple Samsung, Nokia Can never stop investing in innovation.
HTC has added a new feather in its flagship HTC One (M8) with this latest gadget having a larger screen, an enhanced operating system and as visible enhancements to its cameras.
Can this double headed dragon bead the dragon slayer (Samsung)?
Lets have a look on the some features of HTC One (M8) :
HTC One (M8) – Camera :
The feature you will like most is its camera which is unique as well. Now u might thinking how?? Because every phone provide this feature so what is new in that??.
The main difference in the camera of HTC One (M8) is that it has one front camera with 5 megapixels and at the back side instead of traditional one , it has two cameras. The main camera is of 4 Ultrapixel and the second back end camera is a kind of sensor actually used for collecting additional information for each snap/shot you take.
Addition information like depth, focus, U-focus, re-focusing  are recorded using this second camera for each shot and later allowed post capture editing. It also allows selection of any object in back , near or  middle or highlight.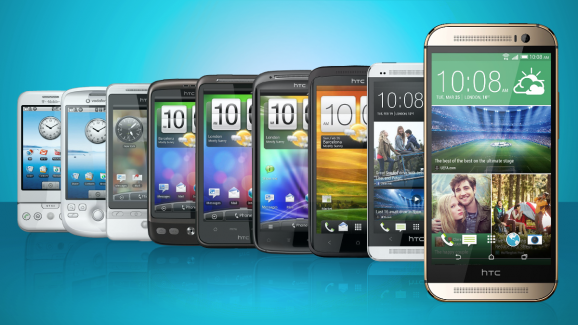 HTC One (M8) – Screen : 
HTC One (M8) has LCD screen with size of 5 inch having resolution of 1080 * 1920 (441 ppi).
HTC One (M8) – OS :
With the latest flavour of Android, HTC one (M8) brings 'Android 4.4.2 KitKat' experience.
HTC One (M8) – Power :
2.3Ghz quad-core , 2 GB RAM, MicroSD slot , 16 / 32 GB storage.
HTC One (M8) – Battery :
2600 mAh
Some changes has been made in HTC One (M8) i.e. Power button is moved to from left side to right side on the top of the phone. Headphone jack is now at the bottom of the phone.
HTC One (M8) is expansion of original one with better design and with some more spice. It is really beautiful and impressive phone.