HTC's RE Camera
With this device, HTC has rediscovered the simplicity. This little remarkable, periscope shaped camera gives you new experience of watching, recording and capturing life other than the common way i.e. by the smartphone's screen.
A new concept of little remarkable external camera calling RE. Look likes  asthma inhaler or PVC pipe, this RE is  small & light weighted, one handed accessed device and can easily fit into your pocket of purse.
Specifications of HTC's  RE Camera
96.7 x 26.5mm
5 grams (2.31 ounces)
16 MP camera CMOS Sensor
1080p video capturing,
4x slow motion 720 p video recording
Time Lapse recording
Water proof construction
146-degree wide-angle lens
8 GB pre-installed card , can be extended upto 128 GB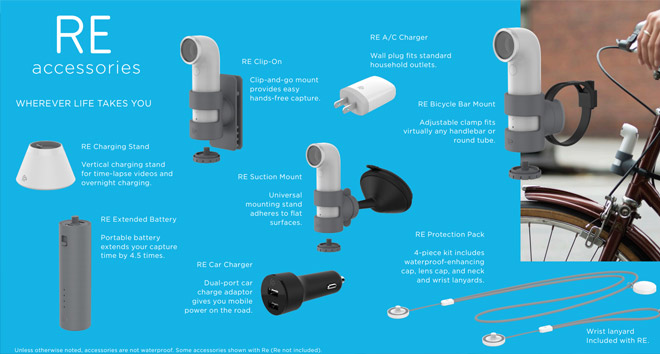 RE camera focuses on moment and provides you distraction free photo & video capturing . Its 146° wide angle lens captures prefect view without viewfinder. There are two button on this device, one button is outside i.e. shutter button. Press once to capture photo and press a bit long for capturing video. There is slow motion button, mic on top and speaker and LED indicator. It has slot for microSD card & microUSB data and charging port.
HTC's  RE Camera is for rough use
With RE  camera, RE accessories comes which helps you to capture perfect selfies and other views.You can attach RE with handle of bike/cycle, clip to your window, on your back when you are on a hike. RE camera is waterproof and allows you capturing underwater upto 1 meter. RE's 16 Megapixel camera CMOS sensors captures HD photos & videos (1080p). This device is compatible with Android and iOS phones. There is no power button but have built in sensor that automatically switch on the device based on the grip detection.
Easy & fun to use, easy editing and single press sharing. This device will be launched in the late of the October 2015 with the price of $199.