IRISNotes | A Device that converts Handwritten Notes into Digital Notes
Most of us might have faced one common problem during our college days or in conference . The problem was that we make handwritten notes and either misplace or lose them and every time it is not possible to carry out them.
Imagine a device that supposed to convert your handwritten notes into digital notes. So Here your imagination comes true !!!!!! IRISNotes is one kind of device that converts your handwritten notes into digital notes.
IRISNotes is a digital pen that capture your handwritten notes into digital notes and great thing is that that digital notes are editable. This pen seems to be ordinary ink pen but having extra ordinary features such as
> Captures handwritten notes and generates digital data of those notes.
>  Not only converts but also allows editing it means you can get editable text document .
> You can save and export that digital text to your Computer , IPod, IPhone, IPad, etc.
> It does not require any kind of special paper,  just need standard sheets of paper.
IRISNotes has one clip to be attach at the top of the page or notebook  and receiver is able to store about 100 pages and also allows downloading of that information from computer via USB cable. This system gets power from the battery.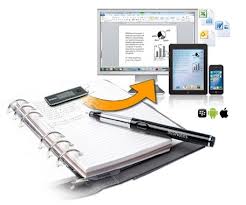 IRISNotes is available in two versions Express and Executive.
In Executive version, the pen comes in a leather pouch and It has rechargeable battery.
Having 30 pin connector for sharing and sync of your data with IPad, IPhone or IPod.
Price is : $149
While in Express version,
It comes with a battery powered pen. It has extra four replacement batteries  in aluminum case.
Price is: $99