WonderCube | World's smallest Smartphone accessory
Nowadays people like to stay connected with latest trends , technology and gadgets, they like to be connected with latest news & social media.Chargers,cables, power banks,memory, card reader, OTP Cable, USB and more things which have become very essential part of our day to day life, but to carry all these smartphone accessories together is frustrating  & tedious sometime.
What if a small tiny gadget fulfill your all need !! Sounds Interesting!!!  In today's post we will see one such amazing gadget having wonderful features like its name :  "Wonder Cube" .
WonderCube is the world's smallest smartphone accessory works as charger, Phone-Stand , Memory and emergency power, key chain, Sync all in one tiny,compact, durable and light weight cube.
One cubic inch with wonderful features i.e. WonderCube . No need to carry multiple accessories or bulky cables, this all in one small size device having big functionalities.
WonderCube  functionalities :
A tiny flexible compact durable USB cord is available for Android and iOS devices. This cubes is fold in one inch and fold out upto 3 inch. With its in-built gold plated connector, it can quickly charge the phone with any USB port.
It relieves you from messy and tangled cables. It has USB connector at one side and Micro USB / Lightning at other end. USB connector has hidden microSD slot i.e. you have memory card reader with it. Micro USB supports USB OTG(for Android Devices) , so now you can not only read memory but can also free up/ transfer data as well.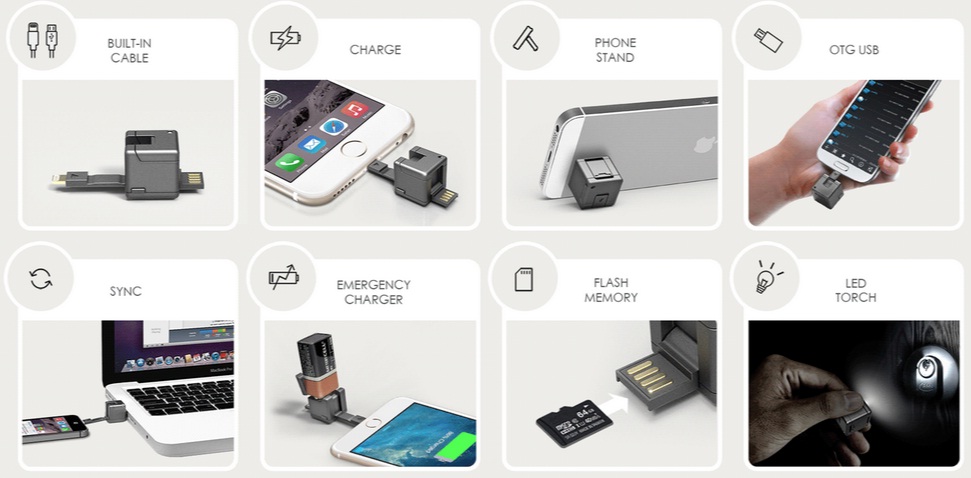 This tiny cube has no inside battery backup, but it can instantly boost your phone. Just connect 9 volt battery to its panel and get emergency power. No more drained Phone 🙂
Wonder Cube's micro suction cups plate provides STAND for your smartphone from different angles and different positions (Landscape or Portrait). Wonder cube has LED mini torch and splash proof protection.
Stay Tuned for more updates and enjoy the video :