Google Chromecast | Chromecast
Now we have the easiest way to enjoy online video and music on our TV.  Its Google's latest launch, Chromecast, a dongle costing just $35 that plugs in behind our HDTVs in order to stream content from a nearby device which is internet enabled.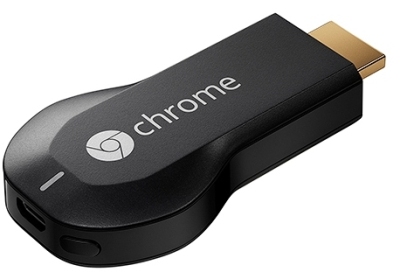 Its a dongle that plugs into the back of TV, into a spare HDMI port. It then allows us to wirelessly sling or "cast" videos and web pages from our phone, tablet or computer to the big screen.
Actually, they're not cast from our gadget, but through the Chromecast's own web connection, in the interests of improving quality.
Google is betting that the best UI is no UI. Chromecast relies on the Smartphone, tablet or PC to provide control, while the TV merely plays the video or audio 'cast to it'.
It is a wireless video dongle that streams Netflix and YouTube to our TV using Android or iOS tablets as remotes.
We can easily enjoy our favourite online entertainment with Chromecast, on our HDTV—movies, TV shows, music, and more from YouTube, Netflix, Chrome and Google Play.
Inside the Chromecast box, we will find the dongle itself, a USB power cable, power adapter and an optional HDMI adapter cable.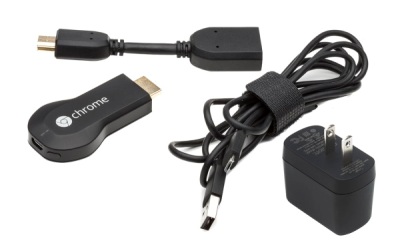 How to use Chromecast
It is very easy to set up. All we need to do is plug in the Chromecast to HDMI and USB power. Change your TV to the destined input, download the Chromecast app, and follow the onscreen instructions.
The dongle will automatically detect home network; all we have to do is input our network key and confirm that the two devices areindeed attached.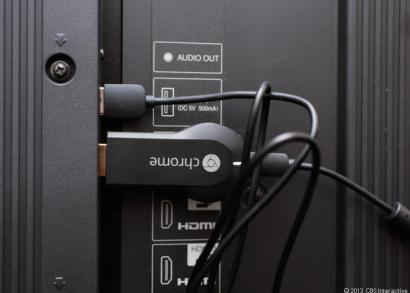 In addition to the YouTube, Netflix and Google Video apps, Chromecast can also mirror any open tab in our Chrome browser.
Good about Chromecast 🙂 🙂

The Chromecast's current best prospect is its video playback.
Netflix videos look superbly sharp on the large screen, and controlling them using your phone, tablet or laptop as a remote works really well.
YouTube videos can look bit blurred and compressed on the big screen, but that's not Chromecast's fault but of the source video. Higher quality videos looks absolutely fine and can be easily controlled using the casting device.
Bad About Chromecast 🙁 🙁

The Chrome tab casting feature is still in beta. No cursor is visible on the cast tab on our TV, so we still have to use our computer or mobile device as the primary screen.
Another thing worth noting is that Chromecast is more limited than Apple TV,  because  it requires a companion device to function: without  phone, tablet or laptop, it's a waste of plastic.
Though Google will continually update the Chromecast to ensure all bugs are removed and more features can be added.
Stay Tuned for more updates..

Thanking You…