Nano Nails | Nano Nails Wearable Technology | Nano Nails by Tech Tips
There is no doubt that this is an era of wearable technologies. Many wearable technologies are there nowadays i.e. Google Glass , Smart Watch and many more. Now another one that you can wear on your finger nails i.e. "NANO NAILS".

Sometime you may have suffered with your long figure nails specially women while using touch screen of your smart-phones or touch enabled devices or sometimes you may face issues while hitting a small item on your touch screen devices because of fingernails.
Features of Nano Nails:
So here comes new wearable technology that solves your such issues. Nano Nails allow you to use your touch-screen device in an unrestricted manner.
Technology and beauty combine for the Modern Women
Best screen visualization of any stylus
Unmatched Accuracy : With a stylus that is always at your fingertips.
Sri Vellanki is the founder of Nano Nails & Tech Tips. She might also face this type of problem, so she invented touch-screen friendly fingernails i.e. wearable stylus that is similar to the artificial nails available in market.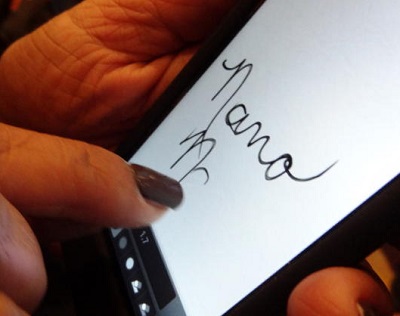 Nano Nails is a kind of an artificial nail stylus that replicates the motion of an object using your figure-nail. With this stylus, no need to carry separate stylus as this is glued to fingers. In Nano nail there is slight curve which help you to get proper angel , great precision, more accurate touch and it works on full press on Nail or nail-tip.