Google Doodle | What is Google Doodle??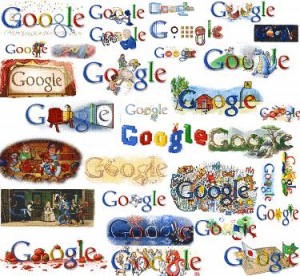 What id Doodle ???  and What is Google Doodle???
Doodle means : a rough drawing having representational meaning.
Google Doodles means – "designs on Google Logo on the Google Home page".
Often we see variations in the logo of Google displayed  on Google Search Page or Google Home page which are called Google Doodle.
Google Doodles are displayed on special occasion such as on the birthday of famous personalities, or any special day or events.
They are mostly very cool, interactive, animated, trendy, traditional and colorful.
In 1998,  Lary Page and Sergey Brin  designed first Doodle for the event of "Burning Man Festival". They did this to notify Google Users of their absence when Google's Server crashed.


Dennis Hwang is well known as "Original Doodler" or "Google's official Chief Doodler" because Google Doodles on the Google Home page are created by him from the year 2000 onwards.
Google Doodles are displayed in the honor of  many great people on their birthdays such as Albert Einstein, Mahatma Gandhi,  Rabindranath Tagore,  Leonardo da Vinci and many more.
PAC- MAN's logo on 30th anniversary                               Mahatma Gandhi's Logo

It is also displayed on events or days like some major events at Google and days like Father's Day, Valentine's Day, etc.
Father's Day –                                                           Mother's Day
Every Year Google holds a competition called " Doodle4Google"  where Google Doodles  are created by children that are featured on the home page of Google.
Hope you enjoyed this article about Google Doodle.. 🙂
Regards 🙂  |>. * .* .|\| .@ .|V|.