Google Search Made Easy | Tips and Tricks to use Google Search
GOOGLE : A name that needs absolutely no introduction !!
From Kids to Grown-ups, Google has become an important part of our Lives.  Google offers wide range of serves and has evolved tremendously over a period of time. Topping all the charts is Google's Search Engine – which is like a magical wand for us all, be it school projects or company research, Google Search is the primary thing we need to start of with. Isn't it ?
Today we at Freefeast are sharing some "not-so-known" but powerful tips and tricks that would make your Google Experience just go WOW !
Changing Language Settings for Google Search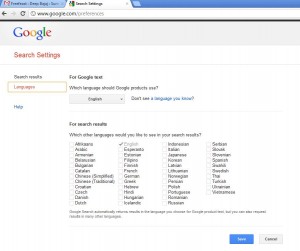 Since Google supports multiple languages, and many times results are displayed in different languages. To avoid such situation, one can set his/her preferred language and Google will always display results in that language only. Preferences can be set at : https://www.google.com/preferences
Setting Sexually Explicit Content Preferences
Depending upon one's interests, usability and need one can also set level of strictness for sexually explicit content being displayed as results and Google will automatically take care of it.
Searching with Google Scholar
Google launched a new platform ( www.scholar.google.com) which enables one to search scholar papers and patented documents from the world of scholarly research. It scrolls data from thesis, books, patents, documents, filed papers, online repositories and many other sources.
Making Custom Search Engine for Website using power of Google
Google not only allows you to place its own search engine on your website to facilitate web search from there itself, but also provides flexibility of creating one's own search engine which crawls pre-set web urls to give very close results. For eg, A University can use this feature to place a search engine which searches data from only University Pages. Custom Search Engine powered by Google can be made at : https://www.google.com/cse/
Using queries to search results from Google
Queries are generally used by programmers, BUT here there is no need of programming knowledge. Just basic know-how of keywords is sufficient to search effectively using Google.
For example :
1-Prefixing "define:" before any word in Google search engine gives definitions of that word from some of reliable websites.
2- Prefixing "intext: username | age | userfiletype:pdf" searches for pdf files on internet which contain data headed as username , age.
3-Prefixing "linkto:URL" where URL is the url given by user, searches for webpages/forums that link to given URL, an ideal option for Network Administrators to monitor that where are their sites being linked.
There are more such useful tips and tricks coming your way,
Stay with us,
Do let us know what more would you like to have it here on Freefeast.
Regards,
Deep Bajaj