VA Shiva Ayyadurai | Life of Shiva Ayyadurai | Creator of an Email
Who is Shiva Ayyadurai ?
Indian origin's VA Shiva Ayyadurai is a scientist of America. He is not only Scientist but also Inventor, Technologist, Educator and Entrepreneur. Nowadays he is well known as the "creator of an Email". He is the man who invented world's first email.
This person is in news recently because of the substantial controversy about who invented an email.  In 1978, when he was a high school student and 14 years old, he developed paper based mail system for inter office use with full scale emulation and later he copyrighted that in 1982.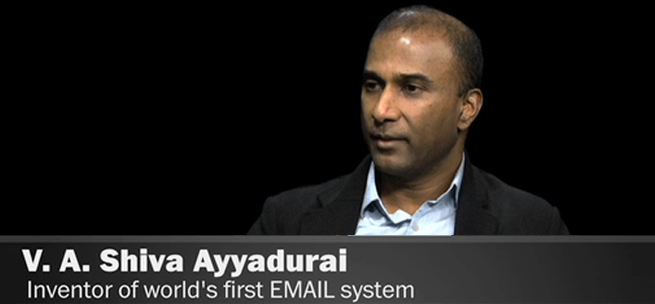 Birth & Education of Shiva Ayyadurai :
Belonging from Tamil family, Shiva was born on 2nd December 1963 at Bombay(Mumbai) , India. When he was of 7 years, he & his family shifted to US.
He did his high school from "Livingston High School", New Jersey. He has worked as research fellow at UMDNJ : "University of Medicine and Dentistry of New Jersey".
He is the brightest scholar who holds four degrees from MIT : Massachusetts Institute of Technology. One bachelors (electrical engineering & computer science), dual masters (one on Media Laboratory and Scientific Visualization and second on Mechanical Engineering ) and doctoral degrees in biological engineering.
Shiva Ayyadurai's Interest & contribution towards Biology and Traditional Medicines :
His family background helps & inspires him towards Eastern medicines (Meditation, Yoga, Nutritional , Herbal Medicines) & Western Science & Technology. Since he was five year old , he was observing her grand mother of doing healing & farming and applying Siddha (India's oldest system of traditional medicine") to heal.
Career of Shiva Ayyadurai :
At MIT in the Department of Comparative Media Studies , Shiva teaches a new course System Visualization. He has started many start up companies and grew them successfully.
After winning White House 's competition which automatically analyze & sort mail of President Clinton's email, he founded one email service company EchoMail Inc. This company grew very soon reached with the market valuation of $200 million . Three patent were also registered based on EchoMail platform.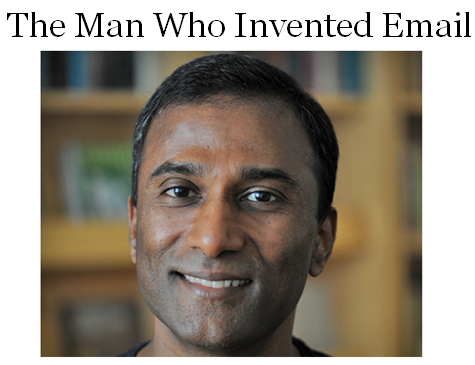 This system was implemented & used by many large companies to manage& respond  customer services mails faster. Those three patterns have been assigned to "General Interactive, Inc.".
As we said, at the age of 14, he developed paper based mail system for inter office use with full scale emulation and copyrighted in 1982 with the name "EMAIL".  After two years, he copyrighted one more pattern for Email & other programs named "EMS"
Dr. Shiva has two US certificate of registration for EMAIL and How to use features of Email.
He has envisioned which simple and something that everyone can use it. Sending & receiving digital messages quickly and reliably. We can say that this is the evolution of Shiva's paper based mail system for inter office use which he developed for UMDNJ and for other organizations and offices.
He defined many essential features/functions of the mail system like Inbox, Outbox, Drafts , Compose Mail format (To, From, Subject, Body, Cc: Bcc: , Attachments) , Forward, Reply,etc. All the features made the system so simple to use that no need of being expertise to send & receive digital messages or electronic mails.
Dr. Shiva went for investigation and prove him right about his invention legally with papers, code, certificate of registration, etc. Now I think there is no dispute on that. So at last I would like to discuss some Myths about the history of Email.