Douglas Engelbart | Father of Mouse | Life of Douglas Engelbart
Douglas Engelbart | Father of Mouse
Who is Douglas Engelbart ???
Douglas Carl Engelbart
Douglas Engelbart, a visionary & legendary of computer and American engineer & inventor and also one of the internet pioneer. But above all, He is well known as " Father of Mouse".

Birth & Education of Douglas Engelbart ??
Douglas Engelbart was born on 30th January 1925 in Portland, Oregon. In his family, he had one elder brother and one younger sister.
He completed his school from Franklin High School from Portland in 1942.
In 1948, he completed his bachelor in Electrical Engineering from Oregon State College in Corvallis.
During his college study i.e. during world war II , he was drafted into the Army of U.S. where he worked as RADAR  (RAdio Detection And Ranging ) technician for two years in Philippines. During that time after reading an article he got inspired and returned back to college to complete his study.
He completed his MSc : Master of Computer Science in 1953 in Electrical Engineering from UC (University of California) ,Berkeley. At that time he assisted in project named CALDIC for the construction of  Digital Computer of California.
He got honor of Ph.D. in 1955 in Electrical Engineering from the same university.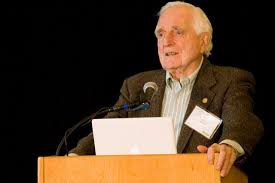 Career of Douglas Engelbart :
He started his career as RADAR (RAdio Detection And Ranging ) technician in Philippines during his college study.
After Completion of study, he was hired by  National Advisory Committee on Aeronautics (NASA) 's 'Ames Research Center'  at California and he worked there till 1951.
After completion of his Ph.D.  at University of California, he worked there as an assistant Professor for teaching and left that job after a year .
After then he founded a company named Digital Techniques for commercializing few of his researches on the storage device but at the end of year he started to work on the research he was dreaming named "Augmenting Human Intellect: A Conceptual Framework".
In 1957, he joined SRI (Stanford Research Institute) International, California. There he obtained lots of patents.
In 1962, he made a report on his dream research and prepared  a proposal. Then at the lab of SRI named ARC : Augmentation Research Center , he recruited a research team and focused on the designing and development of NLS : ON Line System and Engelbart & his research team developed "Mouse", "Bitmapped screen", hypertext & precursors to GUI.
In 1967, Douglas Engelbart applied for the patent of computer Mouse and got that in 1970. Initially name was registered as  "X-Y position indicator for a display system" . He registered patent for mouse but unfortunately never got royalties for his invention for which he is best known. As it was first patented by SRI and then was licensed by Apple Computer and in 1983, Apple  released it with the Lisa computer.
In 1988, he founded Bootstrap Institute with his daughter ; Christina Engelbart. Now this institute of  Douglas Engelbart  is based at "SRI International".
Achievements  of Douglas Engelbart :
Engelbart got many awards and honors in his life some of them are :
In 1997, " Lemelson-MIT Prize" which is given for innovation & invention with $500,000, the world's largest  prize for single.
" Turing award" in 1997
"National Medal of Technology" in the year 2000 by Bill Clinton (US President).
"Lovelace Medal" by British Computer Society in 2001.
"Norbert Wiener Award"  given to computer professionals for the social responsibility in 2005.
In 2011,  Yale University gave an honorary doctorate as their  "1st Doctor of Engineering & Technology"
Engelbart named more than 20 patents and he authored more than 25 publications.

Personal life of Douglas Engelbart :
Engelbart  married to Ballard and having four children named Diana, Gerda, Christina &  Norman. After long 47 years, his first wife died in 1997.
He was suffering from Alzheimer's Disease from 2007.
In 2008, he married to Karen O'Leary Engelbart who is writer & producer by profession.
On 2nd july, at the age of 88, he died at his home of Atherton in California due to failure of kidney.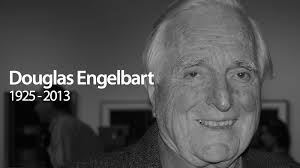 Sir, we salute you for your contribution to technology, invention & innovation…May you be blessed with peace wherever your soul is today, we certainly miss you, and your space can never be filled.
Thanking You.

Freefeast.info