Marissa Mayer

We often say that "BEHIND EVERY SUCCESSFUL MAN IS WOMAN, BUT BEHIND EVERY SUCCESSFUL WOMAN IS HERSELF"

This is true for this woman of tech : Marissa Mayer
She is well known as the current CEO and president of Yahoo!. Before joining to Yahoo!, she was associated with Google for 13 years. She is the business executive of America and one of the most powerful businesswomen of the America of 2012.
Birth and Education of Marissa Mayer
Marissa Ann Mayer was born on  30th may 1975 in Wausau, Wisconsin, US.
In 1993, she has completed her under graduation study from Wausau West High School and she went to National Youth Science Camp held in West Virgina as she was selected by governor of Wisconsin as one of the delegate of state to attend that camp.
Mayer specialized in artificial intelligence in her B.S. and M.S. in Computer Science which she has completed from  Symbolic Systems and Stanford University respectively.
Career of Marissa Mayer
She started her career at Ubilab ( UBS Research Lab ) at Zurich, Switzerland and then at SRI international  (Stanford Research Institute) at Menlo Park, California.
In 1999, she joined Google and she was the first female engineer of company and she was the 20th employee of Google. Upto 13 years, she was associated with Google and play a key role there in Google news, maps, images, Search and more.
In her last year at Google, she was VP (Vice President) of Search Products and User Experience.
In July 2012, she declared about her joining at Yahoo and stunned everyone. Currently she is CEO and President of Yahoo!  And one of the board of directors of company.
She is one of the board of directors at not only at Yahoo! and Wallmart but also at Cooper–Hewitt,  New York City Ballet, Francisco Museum of Modern Art , San Francisco Ballet and many more.
Personal Life
In December 2009, Mayer married to Zachary Bogue : a lawyer, philanthropist.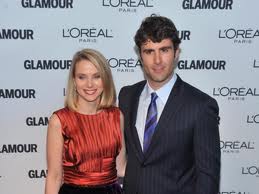 In September 2012, newly casted CEO of Yahoo!  gave a birth to a baby  boy.
Mayer is admired for her look and style worldwide.
Achievements
Marissa Mayer and her leadership has been appreciated by  various publications like BusinessWeek, New York Times and Newsweek.
She has achieved Young Global Leader award by World Economic Forum.
Glamour Magazine announced  Woman of the Year award  named to Mayer.
According to Fortune Magazine, she is youngest ever, most powerful business woman and youngest women CEO.
Really, Marissa is the inspiration model for youngster and specially for women.
We wish her success for her future endeavors. 🙂 🙂