The Top 5 Sleep Tracking Wearable Reviewed
Everyone has a hectic schedule these days. Getting a good night's sleep helps you recharge after a stressful day and it offers a host of other health benefits. Some medical condition such as sleep apnea and insomnia add to your stress levels. Sleep trackers are one way to combat sleeping disorders, and they help you figure out how to get back to sleeping through the night.
Sleep trackers won't diagnose medical conditions or give you advice on how to sleep better. The will analyze your sleep patterns and help you, or your doctor, determine what changes to make to improve your sleeping habits. We looked at all the sleep tracking wearables we could find and found the top 5 sleep monitoring wearables for you.
We graded each sleep tracking wearable based on how well it tracks your sleeping habits and what information it provides after analyzing your sleep data. How comfortable the wearable is, it's reputation based on customer reviews, and how much it costs made the final decisions on which wearable ranked higher or lower on the list. Read on to see what our reviews revealed.
Fitbit Charge 2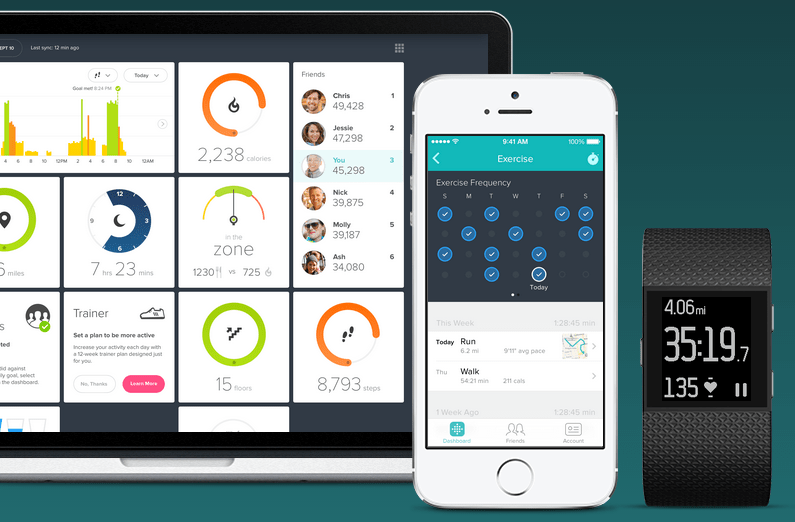 Everyone knows Fitbit wearables track heart rate, exercise activity, and several other things related to health and fitness. The Fitbit Charge 2 tracks your sleep habits as well. The wearable knows when your heart rate drops and tracks your movements to determine when you are sleeping. It knows if you're watching a movie or sleeping.
The Fitbit Charge 2 lets you sync your sleep data to your online database and track sleeping habits the same way you monitor heart rate and steps taken throughout the day. Setting sleep goals is simple since this wearable offers an Android and iPhone app. Set goals, manage your data and analyze your sleep patterns from your phone or share the results with your doctor.
Fitbit wearables are the number one selling fitness wristband on the market today. Pick from many styles and colors to fit your fashion needs, or just buy the black one because it matches everything. This device is durable and endures everything from rain to a short drop. The software and the app offer much more than sleep tracking.
The band on the Fitbit Charge is comfortable and made for 24-hour use. The face of the display is low profile and tough enough to survive a few bumps and falls. It's not the prettiest sleep tracking wearable, but it is simple, and the software is intuitive. In bright sunlight it is readable, but you have to look at it for a moment. It could be brighter sometimes.
The Fitbit Charge 2 is available on Amazon for $119.95. For what you get, this is a great price. Unlike some sleep trackers, the Fitbit Charge 2 offers to track everything your body does. We consider it the all-around tracker because you'll find it useful throughout the day. The battery stays charged for up to five days, so you'll get a lot of tracking done without recharging.
Letsfit Fitness Tracker HR
The Letsfit Fitness Tracker HR tracks your daily activities including your sleeping habits. It uses your heart rate and activity level to determine when you are asleep. This wearable links with your phone to display SMS and other notifications. However, it knows when you are sleeping and won't disturb you with notification or by lighting up the screen.
We like the display. It's bright, and it's smart enough to know when you are looking at the screen, so it saves battery life by only turning the display on when you look at it. The battery is recharged using a built-in USB plug, so you won't need a dock or USB cable to charge it.
The battery lasts up to 7 days. While not related to sleep tracking, we like the phone integration which lets you see SMS texts, take selfies remotely, and sync data in real-time.
We had a hard time finding any cons for the Letsfit tracker. The USB charger built into the band makes charging easy, but it could pull free if you brush the wearable against something hard enough. That could lead to a lost device.
Some customers reported the device did not track sleep as accurately if you work at night and sleep during the day. It followed their daytime sleeping habits, but the data is a few minutes off here and there. It's unlikely any device is 100% accurate.
Amazon lists the Letsfit Fitness Tracker for $29.95. Don't let the price fool you. This device is durable and packed with features. The app is intuitive and looks great. The seven-day battery life and the cost ensured this wearable a spot on our top 5 sleep tracking wearables list.
Nokia Steel HR Hybrid Smartwatch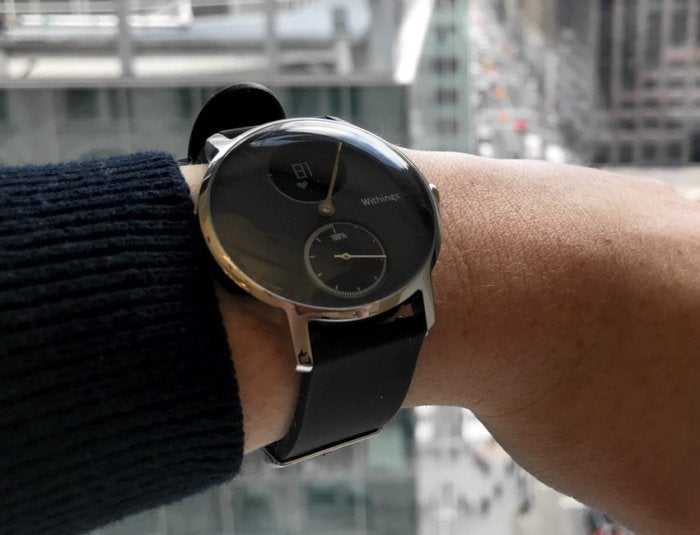 This smartwatch looks great. No one will be able to tell it's tracking anything. It will follow your sleep habits, heart rate, and keep up with most activities. It has a smartphone app that wirelessly syncs the data your watch collects. It can tell when you are in deep sleep or light sleep. It logs that data when you sync with the app.
We like the look of the watch and the feel of the band. The smartphone app is simple to use but packed with features and charts to help you get the most from your data. Your phone notifications, if you want them to, are sent to the watch's screen. Keeping your phone out of sight aids in getting to sleep, but some texts are essential, so you'll want to see those.
The battery lasts up to 25 days. The battery will last almost 50 days if you use the watch as a watch with limited tracking enabled. It's doesn't have GPS tracking, and you can't customize the clock face. You shouldn't need GPS tracking unless you sleepwalk. The watch face is stylish out of the box.
The watch is available on Amazon for $179.95. It's expensive, but worth the money if you want to move from a typical wearable to a wristwatch for added style. The smart alarm feature tries to wake you up without startling you awake like alarm clocks and other wristwatches. The intelligent alarm helps the price not seem as steep.
Wesoo Fitness Tracker
This fitness tracker offers all the features you expect including sleep monitoring. It includes an app for your smartphone and automatically syncs your data. This wearable has a built-in USB plug for easy charging. If you set goals in the app for minimum activity levels for the day, it will warn you when you sit around too long.
We like the fast charge time. The wearable charges in two hours so you won't miss out on data collection and monitoring. It's comfortable enough to wear all day. Your phone can send a notification to the Wesoo which keeps your phone out of your hand and help you fall asleep faster. Studies show connected devices like smartphones and tablets hinder healthy sleep habits.
According to customer reviews, this wearable tracks sleeping patterns accurately, but it does not have a heart rate monitor. Sleep is monitored based on the time of day and if you remain still for an extended amount of time. The built-in USB charger opens on two ends which doubles the chance the device might get unplugged and fall off your wrist.
Amazon will ship the Wesoo to you for $27.99 plus shipping and handling fees. The lack of a heart rate monitor is a flaw in our opinion, but for the price, this is still a top 5 sleep tracking wearable when you consider the features that are present.
Marsno Fitness Tracker
According to customers that tried multiple sleep trackers, the Marsno is one of the most accurate they tried. It features all the perks you expect in a fitness tracker from heart rate monitoring to step tracking. It records all your activity during the day and monitors sleeping patterns at night, or during the day if you work at night.
We like the design. It's sleek and stylish, but most wearables look good even if they don't work well. This one works well, and the app is one of the best we've seen. Some apps force you to scroll through page after page of data to find the one chart you need.
But the app that comes with the Marsno wearable displays your data the way you want it. It also monitors your blood pressure. Hypertension can cause poor sleep patterns, but we consider this a bonus feature since it's not directly related to sleep tracking.
Some users reported the device is difficult to charge. It fits into the USB port on any computer for charging, but there's no indicator to let you know which way the correct way is to insert it. If you're in a hurry, it is possible to plug in the device and think it is charging when it's plugged in upside-down. The battery is supposed to last seven days, but some users claim it lasts about six days while monitoring multiple things such as blood pressure, sleep, distance, and heart rate.
Amazon ships the Marsno for $39.99 plus shipping and handling fees. The Marsno fitness tracker is affordable on almost any budget. If you don't mind fumbling with the wearable when you charge it, or that the battery may not last quite as long, this wearable is worth the money. The easy to navigate software alone is worth overlooking the minor issues with the device.
The Final Results
Letsfit Fitness Tracker HR: This device monitors sleep and do everything else the more popular Fitbit does and costs less than a third of the price. It gets the top spot on our list because it is loaded with features and is affordable.
Fitbit Charge 2: Fitbit makes the most popular fitness wearables, and they track sleep as well, but similar devices are available at a fraction of the price. Still, the Fitbit Charge 2 is packed with features and offers the most robust app available. The price is the only thing that knocked it out of the top spot on the list.
Nokia Steel HR Hybrid Smartwatch: This watch lacks some of the features other fitness trackers have, but it looks excellent and tracks sleep patterns. We put it in the number three spot because it measures up to the top wearable devices, but it's expensive and lacks some features.
Marsno Fitness Tracker: This tracker beat out the Wesoo for the number four spot because of a bonus feature not related to sleep tracking. They both track sleep and offer an app to view your data, but the Marsno monitors blood pressure which was the only factor that landed it in the number four spot.
Wesoo Fitness Tracker: As we mentioned above, the Wesoo and the number four pick are both about the same. Not mentioned above, the Wesoo does have some charging issues.
We track everything these days from the calories we eat to the steps we take at work. The devices on our top 5 sleep tracking wearables list will monitor most of your day and your sleep patterns. If you have trouble sleeping or don't get enough sleep, the data these devices collect will show you where you missed rest and help you, or your doctor, see sleep patterns.
Knowing what your sleep patterns are is one step closer to finding the problems that are keeping you from a good night's sleep.
The five wearables we reviewed vary wildly in price. Most of them have the same features, and they all got positive customer reviews. The bottom line is the price. They're all made from quality materials and look stylish. The Fitbit Charge 2 is likely the best-looking fitness tracker, but it costs three times what the others cost. The Nokia smartwatch is technically a wearable and not a real watch, but it looks like a watch.
If you're like us, the price is the deciding factor. We recommend giving our number one pick a try first. It's inexpensive and has all the features you need to track your daily activities, plus your nightly sleep patterns.