Rounding up the Best On-The-Go Cameras for 2018
An on-the-go camera needs to have certain qualities to qualify as on-the-go. DSLRs and similar cameras don't qualify as on-the-go. We looked for cameras that were high-quality, had great reviews, and would fit in your purse, backpack, and possibly fit in your pocket. Price is always a factor, but image size and quality are more important in a roundup list.
We've included waterproof cameras on the list. You probably don't scuba dive everyday or while on-the-go, but we think the waterproof cameras are worth the review. They are compact cameras built for toughness, but they have all the features of the less expensive compact cameras we reviewed.
They will let you keep taking photos and sporting events, on the water, or anywhere you wouldn't usually consider using a camera for fear of getting it wet.
We searched and researched a lot of cameras to compile our rounding up the best on-the-go cameras for 2018 list. We narrowed our choices down to five cameras based on the criteria mentioned above. Some are inexpensive cameras, and other are pricey, but they all got excellent customer reviews, and they are feature rich.
Sony DSCW830
This Sony camera's compact design makes it small enough to fit in your pocket. It comes loaded with features like panorama shooting. Turn on panorama mode, hold the camera steady, and turn around to collect light from 360 degrees around you. You can turn that data into a panorama in the camera or in the software that comes with the camera. Either method is simple.
Let's get to the technical details:
1 MP image sensor
Optical SteadyShot
8x optical zoom
720 HD movie mode
7-inch rear screen
If you have experience with compact digital cameras, you know battery life is always an issue. This camera has a short charging time and long battery life, even while shooting video. The camera controls and settings are user-friendly and easy to understand. It takes excellent photos and video that are crisp and in focus. The 8x optical zoom will bring objects closer for better pictures.
The Sony editing software works great if all you need are step by step guides to get your photos ready to share or print, but it lacks a lot of features we'd expect to find in photo editing software. You can edit photos and videos manually, but the editing options are limited to brightness, cropping, and a handful of essential tools. In low light situations, the camera needed more time than we'd like to focus.
You can order this camera from Amazon for $115.00. That's a great price for a compact digital camera from a brand like Sony. You can add a protection plan for about $9 extra, but Sony has a great warranty. If the camera is defective Sony will fix it, but if you drop it into a pool, the protection plan will come in handy.
Kodak PIXPRO Friendly Zoom FZ53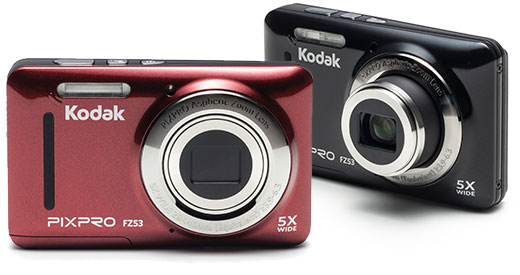 In a world of inexpensive DSLRs and high-end cameras, the Kodak PIXPRO stands out. It's small enough to fit in your pocket and sturdy enough to take a fall if you drop it. We don't recommend testing the toughness. Kodak cameras are some of the easiest to use on the market, and Kodak has been making cameras for a long time.
Let's get to the technical details:
16 MP image sensor
28mm wide-angle lens
5x optical zoom
720 HD movie mode
7-inch rear screen
This camera takes excellent photos, and it's easy to use. People often assume you need an expensive, complicated camera to get great photos, but the Kodak FZ53 proves them wrong with every picture taken. It auto-detects if your subject blinks or is out of focus. A lot of detection is built into the camera to help make sure each photo is perfect.
It can take panoramic photos, but it won't make full 360-degree panoramic images. You can get a 180-degree panoramic shot, but you'll need to be very smooth and steady during the process. It takes excellent photos, but 16 megapixels is low by today's standards. You probably won't notice the difference, but video quality will suffer a little because of the smaller image sensor.
You can order this camera from Amazon for $72.95. It's an older model camera with new technology added, but it's proven itself to Kodak and Kodak's customers. It's a great option if you don't want to spend a lot of money for a compact camera. Consider this camera for short trips or to keep on hand at a job site for spur of the moment photos.
Canon PowerShot ELPH 180 Digital Camera
You can shoot everything with this little gem from still images to HD video. It comes with several smart options to help you take better photos like the Smart Auto feature which automatically adjusts the camera to suit the current lighting and distance circumstances.
Auto Zoom automatically focuses on your subject and zooms in for the best shot. You're not stuck with automatic features; there are plenty of ways you can take control of the camera and tweak individual settings to your liking.
Let's get to the technical details:
20 MP image sensor
8x optical zoom
720 HD movie mode
7-inch rear screen
Expect to take about 220 photos on a full charge. The camera has an Eco mode which preserves battery life by limiting camera resources between photo and when you aren't taking a picture. The Eco mode will limit performance. The flash won't recharge as fast, and the camera will need a second to wake up between photos if you pause for too long.
In bright sunlight the screen on the camera is hard to see and focusing is difficult. Continuous shooting mode is slower than similar cameras at 0.8 frames per second. Continuous shooting is helpful for capturing sports. If you don't have kids or need to shoot candids at sporting events, the continuous shooting speed won't matter to you.
You can order this Canon Powershot from Amazon for $109.00. It comes in the classic red common to Canon compact digital cameras or silver. If you want to capture those moments when your child catches a ball in the yard frame by frame, this camera will let you down. We recommend this camera as a travel camera for quick still photos and short videos.
Nikon W300 Waterproof Underwater Digital Camera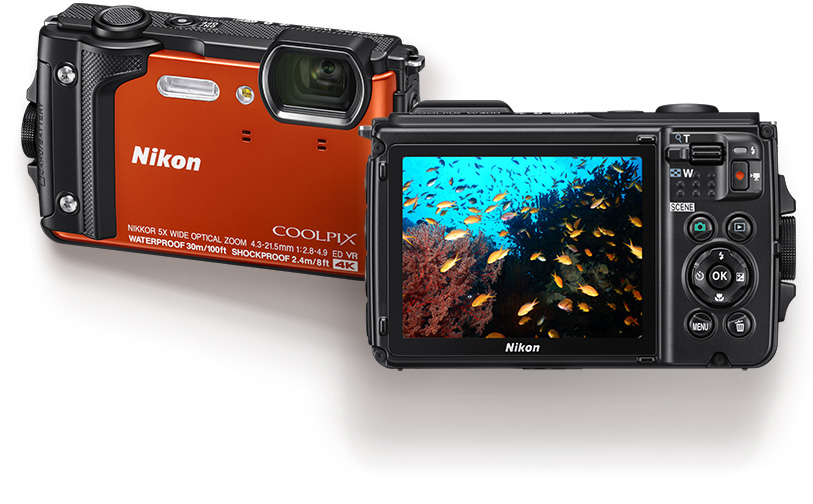 This camera is the most expensive camera to make our list of the best on-the-go cameras for 2018. There are times when the weather gets in the way of taking photos. That won't be an issue with this camera. It is waterproof up to 30 meters which is further underwater than we want to try to make pictures. Its case is sturdy and can take some abuse. Using a camera in wet conditions is always risky.
Let's get to the technical details:
16 MP image sensor
5x optical zoom
4k UHD video
3-inch rear screen
It comes loaded with features not found in other compact cameras. It has GPS, a barometer, an electronic compass, WiFi, and Bluetooth built-in in case you get lost or want to transfer your photos via Bluetooth to another device. You can lock the autofocus on a subject, and the camera will stay focused on that subject even if they move around a little.
Shooting 4K UHD video drains the battery rather quickly. If you do plan to use the camera to shoot underwater, it focuses poorly in darker water but works well at shallow ocean depths or in a pool. The lens is not in the center of the camera, and you will put your finger in front of it a lot until you get used to it. We wish the camera came in at least a 20 MP version.
Prepare for the sticker shock; you can order this camera in black, red, or bright yellow from Amazon for $336.95. That's a big jump in price compared to the other on-the-go cameras on our list.
There are cheaper underwater cameras to choose from, but none of them measure up to the quality and performance of the Nikon W300. We recommend this camera for any wet situation you need a camera for, or as your on-the-go pocket camera.
Fujifilm FinePix XP80
This Fujifilm camera is from their line of cameras built for toughness. It's waterproof and durable even in muddy conditions. Keeping the mud off the lens is up to you. If you need an on-the-go camera for hiking, the water park, or snorkeling this is an affordable solution.
There's no lack of standard features or quality in this compact camera. It doesn't have some of the features other rugged, waterproof cameras have, so the price is much more affordable.
Let's get to the technical details:
2 MP image sensor
5x optical zoom
1080p video
7-inch rear screen
In continuous shooting mode, this camera speeds along at ten frames per second at full resolution. You can connect it to your phone via WiFi for handsfree shooting or transferring images. The backlit rear screen is bright enough to see in direct sunlight. Shoot video 1080p videos at 60 frames per second while moving or underwater. The built-in image stabilizations help stabilize still images and videos.
The WiFi sensor doesn't work well if you increase the range between you and the router by more than 20 feet. The weak WiFi was a little bit of a letdown, but WiFi isn't going to be available on-the-go, all the time.
The Fujifilm camera app for your smartphone is outdated and crude. It works, but several customers reported the app crashed a lot or wouldn't load. Customers with recent iPhones and newer brands of Android phones didn't seem to have the issue. The app misbehaved on older phones in most cases.
Amazon will ship this camera to you for $142.98 plus shipping and handling fees. It's the most affordable waterproof, tough camera we found. It is small enough to keep in your pocket, but it packs some significant features. We recommend this camera for family adventuring or everyday use. You won't be disappointed with its performance or image quality.
The Final Results
Canon PowerShot ELPH 180 Digital Camera: This camera got the top spot based on image quality and price. Most of the cameras, except the waterproof models, were neck and neck during the review process.
Nikon W300 Waterproof Underwater Digital Camera: The only thing that keeping this camera out of the number one spot is its price. It has GPS, WiFi, and 4K video, so the price is acceptable, but we couldn't give it the top spot.
Fujifilm FinePix XP80: It's waterproof and less expensive than the Nikon above, but it isn't as feature-rich.
Sony DSCW830: This is an all-around inexpensive camera. It beat out the Kodak camera below for the number four spot based on features.
Kodak PIXPRO Friendly Zoom FZ53: This PIXPRO came in last, but it's not a bottom tier camera. It takes fantastic photos and video, but it lacks the resolution to climb any higher on our list.
If you're searching for an on-the-go camera, the cameras on this list are all you need. Any of them will capture high-quality photos and video. They all have similar features. We suggest looking back through the list and finding the features you know you want. After that, it's just a matter of deciding how much money you want to invest in a camera.
The Nikon waterproof camera and the Fujifilm Finepix will work out great for wet conditions. The Nikon, in our opinion, is better for biking or boating since it has GPS and a digital compass. Whatever your needs, there's a camera on this list for everyone that needs a compact digital camera.