GoKey | Smartphone Utility Device
Imagine a device that can work as your charger, USB-cable, memory and a locator of your keys or phone. A device that is like a key-chain  and is smart, connected and powerful. This device is GoKey.
Lets see why GoKey is connected, powerful, smart :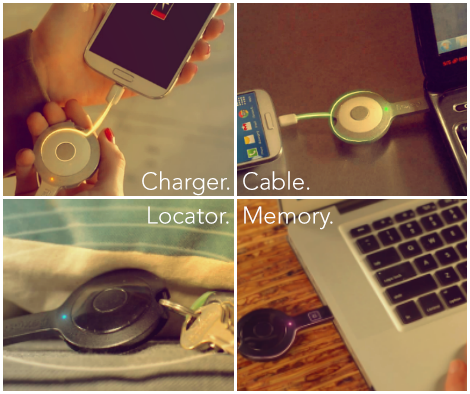 GoKey Battery

: "It Charges your Phone + Shake it to check battery level" :
One of the common problem we might often face is battery and charging issues with our smartphones. Sometime you forgot to charge or forgot to carry messy cables or it is not possible to carry chargers, batteries all time along with you and battery gets down when we actually want.
GoKey will allow you to go on with battery, it can charge itself & your smartphone with its built in USB cable & built-in battery backup. While charging it shows orange light on its LED and turns into green light when fully charged and if the battery is too low i.e. below 20%, it shows red light.
To check GoKey has enough battery or not, just shake it thrice and it will give you color signal i.e. green, orange or red depending on the level of energy. It has small battery having 400 mAh.
Cable & Memory of GoKey 

:
GoKey comes with portable charger. It can charge itself using the cable or by direct plug . With the help of cable you can sync your smartphone as well.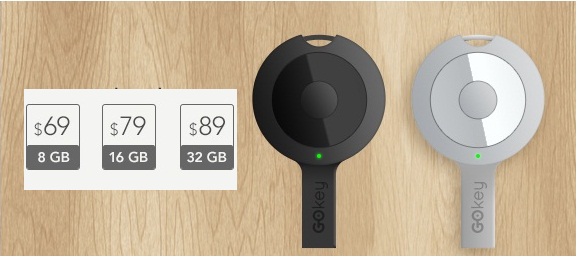 By plugging GoKey to laptop, its battery will get starting charge. If you want to use as a flash drive (USB), just press a button and this device is ready as flash memory for storing your files, photos, videos, etc. This memory comes in the storage of 8 GB, 16 GB and 32 GB and you can also secure it with password for this security it uses 128bit encryption.
 Connected & Smart

:
GoKey is a such device you can use everyday for USB, charging and for syncing. This device is smart as it connects to your smartphone using bluetooth with the radius of 100 ft. With the click of a button on GoKey, your phone will get ring and you can find you phone.
It not only locates your phone but your keys as well , the phone help you to get signals as you go far away or come closer to the keys and when you are enough closer to the keys, pressing button in app will ring GoKey and you can find keys. GoKey App remembers the last location of your GoKey.

With a single button on GoKey, you can perform many actions like play or pause songs, skip songs, videos, click a snap, capture a video, change the slide of presentation, and main answer or reject call.
GoKey is splashproof and having durable enclosure of metal and other parts with high quality plastic. It works with Android, iPhone and Windows phone.
Really!!! what a useful and innovative device. I hope you like this post, feel free to comments 🙂