Famous IT Personalities | Personalities Empowering IT Industry
Here is the list of Personalities Empowering IT Industry
Reid Hoffman

:

LinkedIn Founder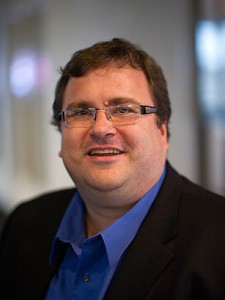 >> Reid Garrett Hoffman

>> Reid Hoffman is the co-founder of LinkedIn.

>> LinkedIn was founded in 2002 and is One of the famous social network site for job searching & business connections.

>> In 1994, he started his career with Apple computer where he worked on eWorld : an early attempt of social sites. In 1997, He has also worked at SocialNet.com and PayPal.

>> LinkedIn was founded by Reid Hoffman, Allen Blue, Konstantin Guericke , Eric Ly and Jean-Luc Vaillant.

>> He is was the founding CEO for first four years and then promoted as chairman and president in 2007 and in 2009 he became LinkedIn's executive chairman.

>> He is the investors in many companies and has been awarded with many honors.
Jan Koum and Brian Acton : WhatsApp Foudnders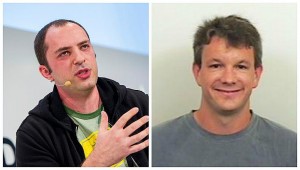 >> Jan Koum & Brian Acton are the founders of the famous mobile app WhatsApp.

>> They founded WhatsApp in 2009

>> Jan Koum is the CEO of WhatsApp and after acquisition of WhatsApp by Facebook, he is the Managing Director (MD) of Facebook Inc.

>> Jan Koum and Brian Acton both has worked at Yahoo! , where they actually met and worked together for 9 years and then left the company together.

>> They also try to get work at Facebook but failed. In 2009 Jan bought an iPhone which gave them idea to develop such a app.
Steve Chen, Jawed Karim , and Chad Hurley

:

YouTube Founders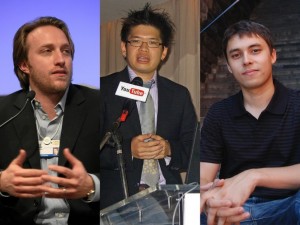 >> Well Known Video Sharing website : YouTube is founded by Steve Chen, Jawed Karim & Chad Hurley.

>> They all were employees of PayPal.

>> They founded YouTube in 2005 which was acquired by Google in 2006.

>> Chad Meredith Hurley is also founder of MixBit & CEO of YouTube. He is also Co-founder and CEO of AVOS Sysyems.

>> Steven Shih "Steve" Chen, is co-founder of YouTube and AVOS systems. At present he is the owner of MixBit and runs it. Before PayPal, Chen has also worked in Facebook Inc.

>> The first YouTube video was uploaded by Karim with the name "Me at the Zoo".
Eric Schmidt
>> Eric Emerson Schmidt.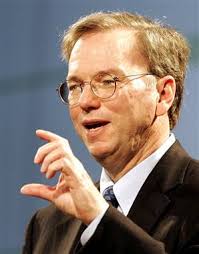 >> Eric Schmidt is executive chairman of Google Inc.
>> He is World's 138th richest person.
>> He has re-write the programming for LEX : Unix OS's Lexical Analysers.
>> He Worked at Bell Labs and Novel and Served as the CEO at Google form 2001- 2011. Currently he is the executive chairman there.
Drew Houston

:

Dropbox Founder
>> Andrew W. "Drew" Houston.

>> He is best known as the co-founder & CEO of Dropbox : Online storage & Backup Service.

>> He founded Dropbox with Arash Ferdowsi (CTO of Dropbox).

>> It is said that Houston forgot his USB when he was student and this gave him idea of such cloud based online storage.
Evan Williams : Blogger & Twitter Co-Founder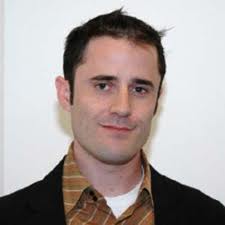 >> Evan Clark Williams.

>> Evan is the co-founder of Pyra Labs, Blogger, Twittter.

>> He is the co-founder of Blogger from Pyra Labs and also invented the term 'Blogger'.

>> Evan founded Twitter with Jack Dorsey. He has also served as the chairman and CEO of Twitter.
Blake Ross & Dave Hyatt

: Mozilla Firefox Founders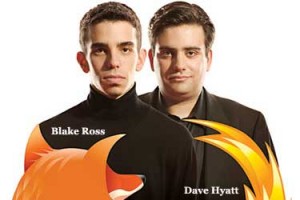 >> Blake Aaron Ross and Dave Hyatt are founders of Mozilla Firefox – well known free & Open Source Web Browser.

>> They have founded Firefox browser with Joe Hewitt

>> At the age of 10, via America Online , Blake Ross created his first website and while his graduation he was simultaneously working on Mozilla.

>> Dave Hyatt is well known for his contribution in the development of Mozilla Firefox, Safari browser and WebKit framework. He has implemented tabbed browsing , he has written the specifications for XUL & XBL markup languages.