Google Chromebook Pixel Touch Screen Laptop | Chromebook Pixel Laptop
In this era of competition and technology we are often offered higher and higher Resolution screen and touch and lots of new features day by day. This time world's one of the largest company Google has launched a new laptop in market to give the completion to its rivals. The name of this product is "Chromebook Pixel Touch screen Laptop".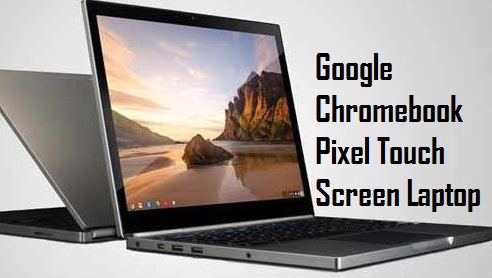 Chromebook Pixel Touch screen Laptop is HD (High Definition) touchscreen laptop launched by Google. This laptop is run under chrome operating system.
Let us see the features of this new amazing Chromebook Pixel Touch screen Laptop.
Available Google Chromebook Model

The laptop has two versions : one is  basic model, has WiFi only and another has LTE (Long Term Evolution) Model which is more expensive and which can connect to super-fast LTE network of Verizon.
Gorilla Glass multi-touch screen in Google Chromebook
This Chromebook Pixel Touch screen Laptop has Gorilla Glass touch screen as its cover glass. As Gorilla glass is best for touch screen and make it more lighter and thinner and having qualities like hardness, strength, scratch & impact resistant and it can be recycled also. This glass material (consists of combine material named alkali + aluminosilicate) is manufactured by the US company named Corning and it has registered trademark to Gorilla glass.
Google Chromebook Display and Resolution

It has 12.85 inch touch screen with aspect ratio of 3:2 which gives you more vertical space and it is not like traditional one . Resolution of Google Chromebook Pixel Touch Screen Laptop is 2560 x 1700 at 239 PPI (Pixels Per Inch) i.e. screen density is 239 pixels per-inch. This amazing laptop has viewing angel of  178 degree and brightness of 400 nit.
With this Google has tried to provide an extreme high resolution display and more bright laptop than anyother laptops available in market.
Weight and Size of Google Chromebook

Weight of  this laptop is 1.52 kilograms with size of 297.7 × 224.6 × 16.2 mm.
Google Chromebook Processor

This laptop has  CPU or Processor of 'Intel Core i5 ('Dual-Core 1.8 GHz')' and integrated GPU (Graphical Processing Unit) of 'Intel HD Graphics 4000'.
Google Chromebook Memory & Storage

IT has DDR3 RAM of 4 GigaByte. (DDR – Double Data Rate)
It has two type of storage, one of 32 GB Solid state (Electronic Disk) for WiFi model and another 64 GB Solid state for LTE(Long Term Evolution) Model.
It also provide 1 TB (terabyte) storage on Google Drive cloud for 3 years.
It gives 12 sessions in GoGo Internet (GoGo gives user broadband internet service in flight)
More Features of Google Chromebook
>> Camera : This amazing Chromebook Pixel Touch screen Laptop has integrated HD camera with 720p.
>>  Keyboard : It has Backlit keyboard (i.e. This keyboard gets light from behind the keys so one can work in dark night also.) and also has clickable and etched (imprinted)  glass touchpad.
>> Bluetooth : It provides Bluetooth 3.0
>> Speakers : Having Integrated Stereo speakers with DSP (Digital Signal Processing) for cancellation of noise.
>> Microphone : It has 3 built in microphones and Combo headphone – mic jack
>> Battery : Provides good battery life with active or typical use of 5 hours.
>> WiFi : This laptop has Wi-Fi with Dual band 802.11a /802.11b/ 802.11g/802.11n
>> Ports : This laptop has 2 port of USB 2.0 with that has MMC/ SD card reader and one port for mini display for external Monitors.
>> Price : The price of Chromebook Pixel Laptop for WiFi model is $1299 (Rs.7000) and price of LTE model is $1449 (Rs. 8000)
I hope you like this smooth experience of touch with Google Chromebook Pixel Touch Screen Laptop. 🙂