New Smartron with 2-in-1 notebook, smartphone
Smartron is the new Indian made brand. Smartron launches its first set of products. It calls a "breakthrough with the Internet of Trons". So, if you are looking for a laptop and don't want to spend too much money, you should try considering Smartron. The company has launched a 12.2-inch Windows 10 2-in-1 t-book powered by Intel Core M processors. Smartron t. book is a hybrid computing device. The company has decided the price of Rs 39,999. With the laptop, company has also declared a 5.5-inch t-phone with Tron-x based on Android, which will be out in the market by the end of April.
The company has come up with the tagline of building "Smart Things For Life". The cricket legend Sachin Tendulkar is the brand ambassador of the company and he is also one of the investor in the company. The chairman and founder of the company is Mr. Manish Lingareddy, who started out at Intel and his first product is running on Intel chipsets.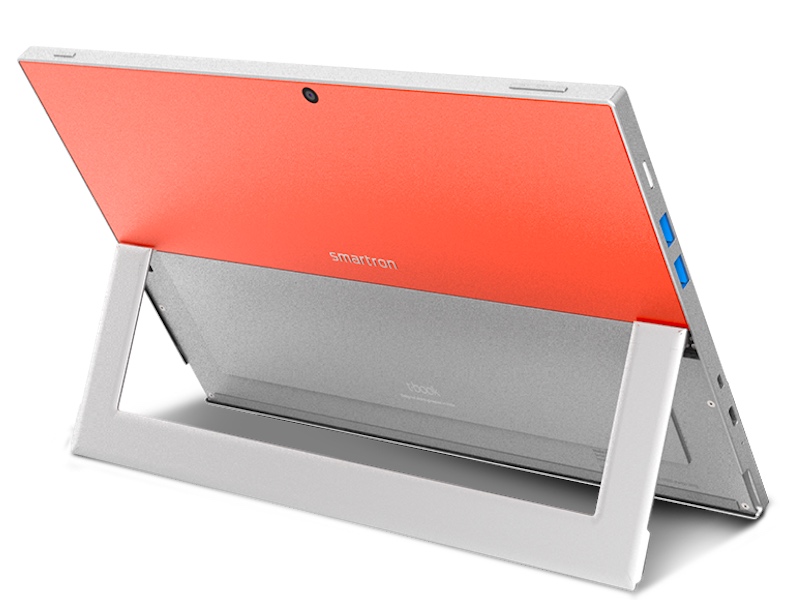 Intel's director for consumption sales in South Asia, Mr. Anand Ramamoorthy said that he was happy with the very different approach of Smartron. He said, "They have not taken a low-end processor, but the performance oriented Intel Core M. It is a segmented approach, as the day you start defining the Indian consumer you will find the going tough."
In its 2-in-1 Windows 10 device, the company touts the design and hardware specifications of the t.book. The tablet comes with a flip-stand and keyboard, which quickly turns it into a full-fledged laptop. The t.book has an aluminum and magnesium body and company claims that it can last for 10 hours on a single charge.
Features of the Smartron t. book:
1) Two full-size USB 3.0 ports,
2) One USB Type-C port for charging with USB 3.0,
3) One Micro-HDMI port, a 3.5mm headphone jack,
4) A micro SD card slot and magnetic pogo pin for external keyboard support.
5) It also supports 802.11 a/b/g/n/ac Wi-Fi dual channel (2.4GHz and 5GHz), and MIMO.
6) On the software end, the Smartron t.book runs Windows 10 Home, and comes with a 30-day trial of Office 2016.
The Smartron t.book has two color options: Grey and Orange, It will be exclusively sold on Gadgets360. The registration for the t.book has begun.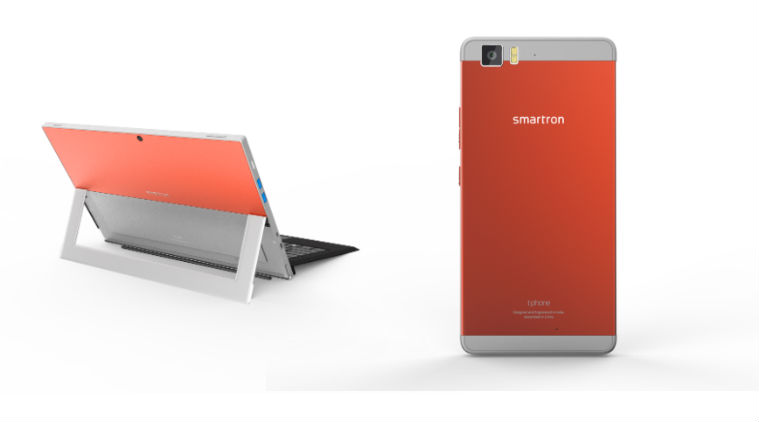 Smartron T. Book Specification:
1) 12.2-inch WQXGA (2560×1600 pixels) IPS display, with aspect ratio of 16:10
2) It comes coated with a fingerprint-resistant oleophobic layer.
3) Powered by Intel Core M processor with 4 MB of cache.
4) Turbo frequency of 2GHz, coupled with 4GB of LPDDR3 RAM.
5) Storage capacity is 128 GB SSD.
6) Front camera 2-megapixel. Rare autofocus camera with 5 megapixel.
The founder and chairman, Mahesh Lingareddy says the idea is to build a truly global OEM company with an ecosystem around it. Discovered in August 2014, it is just now that Samrtron has come out of stealth mode. It is engineered and deigned in India, but it is truly convenient in use globally. He said, "We have to be globally competitive and build world class products. And we have been working on these products out of India for the past two years."
So, Indian consumer will definitely have one more good option in buying laptops. With the latest technology, color option and good price, it may become the first choice of the students.