Nokia X | Nokia X , Nokia X+ and Nokia XL
After successful decade of Windows Phone Operating System in Nokia Lumia series smartphones, nowadays Nokia is in spot light because of using new platform "Android."
Surprised !!!! Well this is true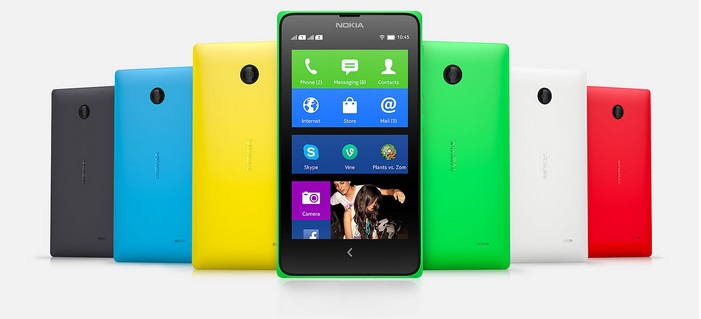 At Mobile World Congress (MWC)2014 , Nokia has announced its new smartphones which will run on Android platform and not on Windows Phone Operating System.
These Nokia smartphones are powered by Microsoft & Nokia Services and will be able to run Android apps.
With Android family, Nokia has launched three varieties at affordable prices : Nokia X, Nokia X+ and Nokia XL.

Features in Nokia X, Nokia X+ and Nokia XL :
Processor

'Qualcomm Snapdragon Dual Core processor'.

SIM

Having dual SIM and takes Micro SIMs instead of regular ones.

Storage

4 GB internal storage  which can be expanded upto 32 GB via microSD card.

RAM

Nokia X    :  512 MB RAM
Nokia X+  : 768 MB RAM
Nokia XL   : 768 MB RAM

Battery

Nokia X , X+   :  1500 mAh
Nokia XL         : 2000 mAh

Camera

Nokia X , X+   :  3 mp Rear Camera , No front camera, No flash
Nokia XL         :  5 mp Rear Camera, LED flash , 2 mp front camera

Display

Nokia X  , X+  :  400 * 800 , 4 inch
Nokia XL         :  400 * 800, 5 inch
These Nokia X smartphone family  will not have Google play store and no access to it. To install and use Android apps , Nokia X family users have to use third party source.
All Nokia X, X+ and XL will have Microsoft's cloud storage OneDrive (SkyDrive) for free. One month free calls worldwide through Skype.
All these phones will have free access to 'Here Maps' , 'Nokia MixRadio : it gives downloadable playlists & free music streaming ', many preloaded 3rd party apps & games.
Would you like to try this Nokia X family smartphone!!!!!
Feel free to comment 🙂
Thanking You.