Samsung Galaxy Tab 3 | Samsung Galaxy tablets series-3
Samsung Galaxy Tab 3
Recently Samsung has launched it's series-3 tablets on 21st July 2013. This series comes with three devices. Galaxy Tab 3 T211 tablet, Galaxy Tab 3 T310 tablet and Galaxy Tab 3 T311 tablet.
Operating System in Samsung Galaxy Tab 3 :
All devices run on Android Jelly Bean 4.x operating system. Both T211 and T310 run on Jelly Bean 4.1 where as T311 runs on latest Jelly Bean 4.2.2 operating system.
Processor used in Galaxy Tab 3 :
Tablets T310 and T311 are powered by 1.5 GHz Dual core processor and T211 is powered by 1.2 GHz Dual core processor.  T310 and T311 are facilitated with 1.5 GB RAM on other hand T210 facilitated with 1 GB RAM and 8 GB ROM.
Storage Capacity :
When comes to storage, T310 and T311 have storage capacity of 16 GB internally which can be expandable up to 64 GB using micoSD card. T211 has capacity of 8 GB internally and expandable up to 32 GB.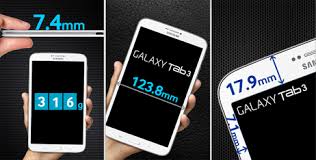 Display in Galaxy Tab 3 :
Galaxy Tab T211 has a 7 inch WSVGA display with density of 168 PPI. Other two are framed with 8 inch WXGA display with 189 PPI.
Camera :
Galaxy Tablets T310 and T311 are equipped with 5 MP primary camera with LED flash and T211 is equipped with 3 MP primary camera without flash. About front camera T311 has little bit more powerful camera 1.9 MP compare to T310 and T211 which have 1.3 MP front camera.
Battery Life :
T310 and T311 run in 4400 mAh battery while T211 runs in 4000 mAh battery.
Wifi / 3G :
Tablet T310 is the Wi-Fi only model without 3G facility on other hand T210 and T311 are wi-Fi  + 3G tablets.
Among students tablets are very popular and in education field tablets are on demand since they provide lots of e-books, video tutorials and other learning stuffs so these devices made targeting mainly to students and youngsters. In business field also tablet has emerging market because they are very handy yet powerful.
Other in-builts features in Samsung Galaxy tablets :
Galaxy Tab Series-3 come pre-loaded with Story Album and Group play which allows users to share music, videos, images, games and files. Applications like Samsung Hub, chatOn, watchOn, S Travel, S Translator, Pop up video and services such as My Movies, My Music, My Education .
My Education provides access to around 2000 educational e-books, 1000 learning videos and educational content for school children. My video enables us to stream trailers, watch movies and videos from selected 2000+ choices. My Music gives access to 500000 national and international songs.
Prices of Samsung Galaxy tablets series-3 :
In India market price for T211 is 17745 INR, for T310 is 21945 INR and for T311 is 25725 INR.