The Application Trend from BYOD to BYOA
The Ever Changing World of Technology
The trends in the technology world change in no time and the same is applicable to BYOD and BYOA. A large number of reviews and papers have been carrying information on this trend these days for it has become quite a rage. Every other Smartphone is loaded with apps these days and as one walks around with the Smartphone, they carry the world of apps as well. Technology related firms have staunch competition amongst employees about who carries around the best Smartphone. This would roughly translate into BYOD i.e. Bring Your Own Device. Any organization that doesn't support technology is bound to shut down sooner or later.
BYOD isn't the End Deal
However, things don't end at BYOD. It is followed up by an BYOA i.e. Bring your own app. As per this, one has to use their own device and devise an app that will be useful for the client and the firm. Another advantage of this is that, enterprises share corporate data on Smartphone apps with all their consumers. Previously, this kind of system was BYOD centric but it has gradually shifted to BYOA. Employees also use apps that allow them to work more productively and efficiently which also translates to BYOA. In fact, consumers don't just use apps on office devices but also use apps that are convenient on personal devices.
BYOA Slowly Changes Enterprise Culture
Thus, this new BYOA trend has led to extensive use of 3rd party apps and the introduction of cloud storage in most firms. This has surely created history in the world of entrepreneurship. Never have firms been so flexible and accommodating as they are today. The best part about this is that consumer applications have become more reliable than enterprise apps. The usability of the former is much more than the latter. However, as long as the end user's happy, no one is complaining. As per Gartner's research and prediction, private app stores will be in extensive use by 2015 and this will only increase in 2016.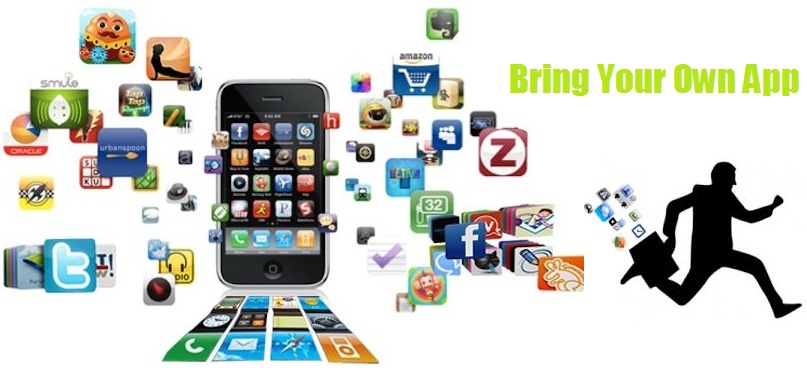 Estimates from Gartner on BYOA
In fact, if estimates are to be believed, over 300 billion app downloads are expected by 2016. The best part about today's technology scenario is the availability of multiple platforms as per user convenience. Examples of the best BYOAs are –
Dropbox
iCloud
GoToMeeting
WebEx
Skype
Evernote
Onedrive
QuickOffice
Thus, soon enough BYOA will be a widespread trend and consumers will have an upper hand in the way they work. Thus, there is a good chance that organisations will introduce their own private app stores. This way, distributing and managing apps amongst employees will get easier.
However, this is a step by step process and will not happen in a day. The firms will have to catch up on the advantages being offered when applying the BYOA in order to correctly systemise it. Thus, will help them increase the productivity of the firm to quite an extent.