The Super Secret International Dealings of Amazon
The Super Secret International Dealings of Amazon:
Amazon is the largest online retailer in the world, employing more than 97,000 people in over 10 countries. The e-commerce giant who made it's initial public offering on the NASDAQ in 1997, has a long history of acquiring companies in the technology community. Since it's inception, Amazon has acquired over 25 companies ranging from video game developers, to streaming video platforms, to education oriented businesses. The Zappos.com acquisition in 2009, which was announced as an all stock deal with a sticker price of $1.2 billion, garnered the most media attention. This is most likely due to the large dollar amount associated with it. Since the Zappos deal Amazon has come close to the billion dollar mark one other time, in 2014; The acquisition of Twitch.tv, a live video streaming platform who mades it's mark in the video gaming industry was acquired for $970 million. With the spotlight historically on the big money deals, 2015 ushered in a new type of acquisition for Amazon, this time with less focus on the dollar amount, and more on the secrecy of the company being acquired. In January of 2015 Amazon announced the official closing of a deal with Annapurna Labs, a microelectronic chip startup company based in Israel.
Amazon and Annapurna Labs:
Annapurna Labs is a microelectronics (micro-chips) startup company that is headquartered in Israel.  Started by tech veteran Avigdor Willenz, and backed by the British microelectronics company ARM Holdings, venture capital firm Walden International, among other investors, the company may be known by the public most of all for it's secretive nature. Annapurna has such an affinity for privacy, the companies website is simply a splash page with the following quote from Willenz [founder].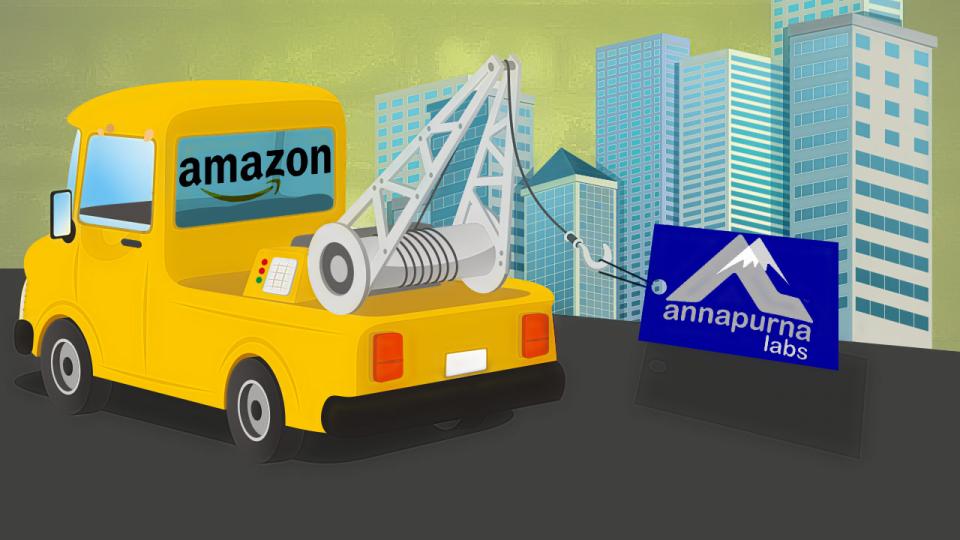 "Annapurna Labs put together some of the best talent to address significant industry challenges. In my experience their talent, innovation, and open culture is unmatched in the semiconductor industry."
Along with this quote and the picturesque mountain scene, there is a "contact us", and a "join us" button on the page, along with the familiar social media links; Google plus, LinkedIn, and Twitter. Though when clicking on the aforementioned links, one is directed to a Twitter page with no tweets, and LinkedIn/Google plus pages that note the company is being operated in stealth mode. It's not uncommon for companies on the cutting edge of technology to be conservative with what business practices become public knowledge; however Annapurna seems to be straddling the thin line between privacy and paranoia.
With all the secrets and restricted  information flow, it's no surprise that many of the details surrounding the acquisition by Amazon are unknown, and any information that has been reported is most likely conjecture. What is assumed is that Amazon payed somewhere in the ballpark of $350 million for the chip startup, though once again that is unconfirmed. What may be the biggest mystery of all surrounding this unusual business deal, is the why factor… As Annapurna is obviously proceeding with pursed lips, it's left to Amazon to feed the hungry public (not to mention their investors) the details, of which many are more than curious to hear.
ARM Holding, Annapurna Labs and Amazon
Regardless of the public's curiosity, no details have been released, and like the price tag that was placed on the deal, the reasons for Amazon's interest in Annapurna are limited to educated guesses. The most popular of the theories is that Amazon is interested in  what ARM Holdings has to offer. As stated previously, ARM Holding is associated through investment with Annapurna. ARM is known for it's design and production of mobile hardware, in other words microelectronic chips for mobile devices. This type of technology is considerably less expensive to manufacture on your own than it is to purchase from a third party supplier. Though the reasons for Amazons acquisition of Annapurna Labs is as of yet unconfirmed, there are two words that many are hedging their bets on. Kindle Fire. As Annapurna is now part of a publicly held company, eventually more details are bound to surface. As for now… conjecture such as this will have to suffice the curious minds.