Jeff Bezos | Life of Jeff Bezos
JEFF BEZOS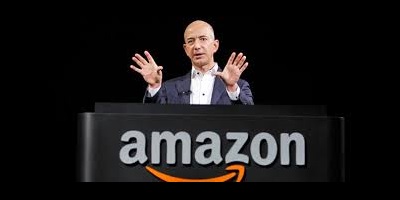 Who is Jeff Bezos
"Jeffrey Preston Bezos" or "Jeff Bezos".
Jeff Bezos is one of the pioneers of e-commerce & he is well known as the founder, chairman and , chief executive officer(CEO) of Amazon.com : World's largest online retailer on WWW.
Birth & Education of Jeff Bezos
Jeff was born in Albuquerque, New Mexico on 12th January ,1964.
Jeff Bezos completed his school from 'Miami Palmetto Senior High School' of Miami, Florida.
During his childhood, he had often showed extreme interest in Science and got 'Silver Knight Award' for 'Student Science Training Program' at University of Florida.
After that he did his in Bachelor of Science in Engineering from Princeton University in the stream of  electrical engineering & computer science in 1986.
Career of Jeff Bezos
Bezos started his career in the field of computer science from 'Wall Street', New York. Then he worked with the companies such as 'Fitel', 'Bankers Trust' and then with 'D. E. Shaw & Co.'
From his currently job, Jeff learned & saw the rapid growth of internet use and as well as at that time U.S. Supreme Court passed a new rule that "as online retailers don't have a physical presence so they don't have to collect sales taxes in the states".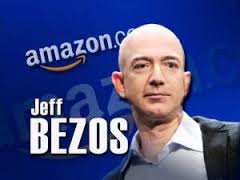 In 1994, he left his job and moved to Seattle from New York, at that time he made the business planning of Amazon on the way. He put his planning into implementations initially by setting up company in his garage in Bellevue, Washington where he started development of software with few employees. Then it  was expanded and finally he developed Amazon.com in 1995, after testing beta site with 300 friends (users).
Thus in 1994, Amazon was incorporated and in 1995 Amazon.com started its service by selling first book on it. He gave Amazon name from the world's largest river.
From 1994 to till now , Amazon.com has faced many ups and downs and has reached to the top of success.
Beside Amazon.com, Bezos also founded company named 'Blue Origin' : aerospace company
In 2007, new innovation came by Amazon named 'Kindle': electronic handheld device for reading. Kindle uses  ' E-INK ' technology which renders text in printable appearance.
Personal Life of Jeff Bezos
Jeff got married to Mackenzie Bezos in 1993. In spite of of such busy schedule Bezos gives top priority to his wife and kids. According to Bezos, her wife has encouraged him to leave the job and start the Amazon.
Many people describe Jeff as a libertarian.
Achievements
In 1999, Bezos was named "Person of the year" by Time magazine.
In 2008, Bezos was selected as one of the best leaders of America and also was awarded honorary doctorate from Carnegie Mellon University in science & technology.
In 2011, Bezos & Gregg Zehr was given an innovation award for the 'Amazon Kindle'.
In 2012, Fortune magazine declared him 'Business person of the year'.
According to Forbes, his ranking is 26th in billionaire and 40th most powerful person in 2012 and he is one of the wealthiest person with the net worth of US$ 25 billion (2013 year).
Recently he was ranked best CEO in the world after Steve jobs.

Sir, we wish you a success in all your endeavors of life ahead.
Thanking You

Freefeast.info