STEVE JOBS FAMILY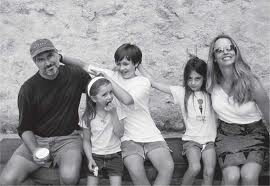 Hello friends today I am going write about Steve Jobs family.
Steve Jobs the god of mobile & computer technology was left orphan when he was born on February 24, 1955, in San Francisco, California. But because of his luck he got adopted by Paul and Clara Jobs, who had already adopted one girl named Petty jobs.
He has biological parents named John Jadali & Joanne Jadali & his original sister Mona, with whom he never wanted to meet. His adoptive parents deceased few years ago. His sister Petty, 3 years younger than him, was adopted when Steve was only 2. At first they lived in 45th avenue south of San Francisco & later relocated in Mountain View within California's Silicone Valley. Petty got married on 1975 & now no one knows where she is right now!
Steve's adopting mother Clara died on November 7, 1986 & his father died on March 5, 1993. Even during that time Steve was not even ready to go to the funeral of his father. Because he hates them for adopting him.
That's enough of boring family history, lets come to his romanting life. His spouse & now his widow named Lauren Powell Jobs was born in 1963 at NEW JERSEY.
Before Lauren comes to his life, a girl named Chris Ann Brennan, who was his college girlfriend got pregnant with Steve Jobs and gave birth to a beautiful girl named Lisa Brennan Jobs. When Lisa born Steve was at the height of his career, so he denied his paternity of Lisa & tried to prove himself infertile. Now how's that!
Steve then met Lauren in 1990 like any romantic scene from an Indian movie. Let's read in his own words,:
"I was in the parking lot, with the key in the car, and I thought to myself, if this is my last night on earth, would I rather spend it at a business meeting or with this woman? I ran across the parking lot, asked her if she'd have dinner with me. She said yes, we walked into town and we've been together ever since"
Powell Jobs married with Steves on March 18, 1991, Powell is cofounder of terravera a natural foods company that sells to retailers throughout Northern California. She also served on the board of directors of Achieva, which made online tools to help students study and to be more effective at taking tests.
From Powell Steve has three beautiful children oldest son Reed followed by two daughters named Erin & Eve.
First of all Reed born on September 1991. followed by Erin in august, 1995 & then Eve born in 1998.
YOU CAN SAY ITS ODD FAMILY BACKGROUND but
"ONLY ODD THINGS HAPPEN TO UNIQUE PEOPLE" remember it in life & you will really be happy in life.
……….good bye………….
BY…DHRUVAL PATEL