Tim Berners-Lee : The Man who Founded WWW
It is easy to easy to build a building, but difficult to lay the base.

Some people create history.

Living in Internet Era, we at Freefeast, would like to pay a tribute to Sir
Tim Berners-Lee by sharing some instances from his life for all our visitors.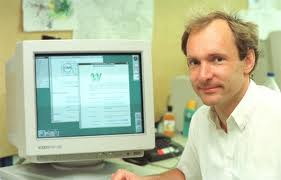 In Nutshell :
Born on 8th June 1955 Sir Tim Berners-Lee  is also known as TimBL, he is basically a computer scientist, a professor at MIT, but the biggest contribution he has given to the generation is the finding of World Wide Web. He is the proud founder of WWW.
He proposed the Information Management System in 1989 and in December 1990 , with the help of Robert Cailliau and a Young Student, he successfully implemented the communication between a HTTP Server & Client via the Internet.
The Journey :
He was born in London to Conway Berners-Lee and Mary Lee Woods who worked on first commercial computer. He attended Sheen Mount Primary School and Emanuel School in London. He studied at The Queen's College- Oxford, from 1973 to 1976, where he received a first-class degree in Physics.
Through 1991 and 1993, Tim continued working on the design of the Web, obtaining feedback from users across the Internet. His initial specifications of URIs, HTTP and HTML were refined and discussed as the Web technology spread.In 1991, he made his WorldWideWeb browser and web server software available on the Internet and posted notices to several newsgroups including alt.hypertext. The Web began to take off as computer enthusiasts around the world began setting up their own web servers. Often the owners of the new sites would email Berners-Lee and he would link to their sites from the CERN site.
The Upbringing :
Lee had a religious upbringing, but left the Church of England as a teenager and he believes in simple and honest living. Tim is happily married to Nancy Carlson and has two children -Alice and Ben. He strongly believes that ISPs should not intercept customer's browsing activities.
The Achievements :
Tim is the director of the World Wide Web Consortium (W3C) and the founder of the World Wide Web Foundation. Tim is a senior researcher and holder of the 3Com Founders Chair at the MIT Computer Science and Artificial Intelligence Laboratory (CSAIL). He also holds some more such dignitary positions across the globe.
In 2004,Lee was knighted by Queen Elizabeth II for his pioneering work.
We Salute Sir Tim.
With Regards,
Deep Bajaj