TrueCaller Hacked | The android app True Caller hacked by SEA
The big news nowadays is that TrueCaller has been hacked!!!!  But, before moving on those things let us understand what TrueCaller is 🙂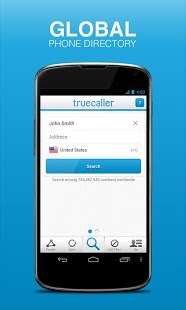 TrueCaller is a cross platform smartphone application that is used to know the identity of caller either by name or number i.e. a kind of global phone directory or Caller ID, developed by "True Software Scandinavia AB" in 2009.
This app is available on Android, Blackberry, IOS, BlackBerry OS, Symbian & Windows Phone. This app not only shows the caller identity instantly but also lookup any land-line and mobile number that exist in  the world. It also provides blocking feature, integration with social media and many other features. It is capable of  supporting 12 languages (as per 2012)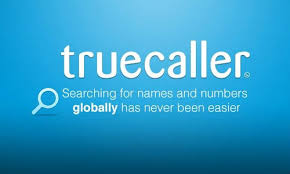 TrueCaller has 10 million users as per January 2013 and announced that will reach at the milestone of 20 million in next 5 month i.e. at the end of June 2013.
10 million users, Isn't it Great !!???!!!, But are those data are safe now ????? because the news came out on the 17th July, 2013 that TrueCaller has been hacked.
Syrian Electronic Army : SEA hacked the TrueCaller app on 17th july 2013 and this is not fake news  because TrueCaller has officially accepted about this incident.
After hacking Truecaller, SEA made announcement on twitter about the hacking. On the twitter they left the message "Sorry @TrueCaller, we needed your database, thank you for it." along with an image which showing details about the user of TrueCaller.
Syrian Electronic Army (SEA) claimed that hacking became possible mainly because of using WordPress's older version in the servers which allowed them  easy access of admin panel. After that they Shutdown the website of TrueCaller and left message that "we are doing some upgrades. Thank you for your patience."
This group hacked/ downloaded more than 7 databases having size 450 GB including truecaller_ugc : 459GB , truecaller_profiles : 4GB , truecaller_api : 123KB, truecaller : 100GB, tc_admin :7MB , tc_www: 70MB  and truecaller_PushMe : 2.2KB.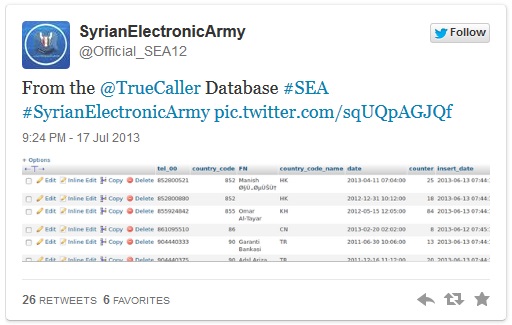 TrueCaller has feature of integration with social media, so the TrueCaller database must have  access codes for Facebook, LinkedIn, Twitter, Gmail, etc.  Are those data regarding password and credential information safe now???
On 18th July 2013, TrueCaller make announcement that indeed their servers was hacked by SEA and with that they also claimed that the hacking did not reveal any credential information (password , credit card info, or other sensitive information about user) . TrueCaller also included that it will provide more security to prevent app and site from such attacks.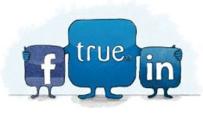 In this technology era, day by day we are provided new and new functionality, features and more. Of course we enjoy that and get lots of from that but how much safe it is to deal with ….???
Feel free to write comments….

Thanking You
Freefeast.info