Hungryroot
Hungryroot is one of the best startups of 2015. It turns boring looking vegetables into remarkably bright looking amazingly tasty pasta dishes. As per a study, only one in about four people eat the recommended three or more servings of vegetables every day. As almost 74% of Americans are obese, only 6% eat the adequate amount of vegetables. At hungryroot, people are dedicated to make vegetables a tasty meal and make the world know what magic the taste of vegetables can does! Hungryroot donates 1% of its profits and volunteer 1% of its time to support nutritional education and healthy eating, which they call "1+1 Trend".
Founders
Hungryroot was formed by Ben McKean, who is the former executive of Groupon (which is an e-commerce marketplace) in partnership with Greg Struck and famous Chef Frankilin Becker. Ben McKean wanted to convert the vegetables into wonderful and delicious pasta dishes. He wanted to make vegetables a desirable meal in an innovative way. He got inspired with the food cooked by Chef Franklin Becker and hence Hungryroot was formed which made McKean's dream a reality. The founders of Hungryroot are a series of entrepreneurs with restaurant reservation service Savored founded by Ben McKean, Long Iced Island Tea brands founded by Greg and The Little Beet founded by the Chef Master.
Image Courtesy  https://www.hungryroot.com/about/
As a startup, Hungryroot got its funding for $2 million from Lerer Hippeau Ventures, Crosslink Capital, Brooklyn Bridge Ventures, and KarpReilly.
Other teams that Hungryroot is associated with are brand and design firm Language Dept., photographer Mark Jordan, packaging design and technology scientists JSB Group and public relations and marketing firm The Door.
About Hungryroot and its products
McKean along with his partners was successful in creating such a brand of farm-fresh meals that could be cooked in 7-minutes. Headquartered in Flatiron, New York City, Hungryroot produces its food out of Long Island City, New York.These meals remain have a life if 14 days when refrigerated. All of the meals manufactured by Hungryroot can be frozen. 100% organic vegetables are used in the preparation of these meals. With all chef's special sauces, toppings and some pre-roasted proteins coming as optional choice with these meals to pair with, each of the meal is claimed to be 100% gluten-free and non-GMO. The calories per meal are less than 500. After its formation, Hungryroot had sold 10,000 meals in the very first month which was a great driving force for the business.
After placing an order with Hungryroot, your package gets delivered the next day consisting of 70-80% of vegetables and 20% protein. The main ingredient of the meal definitely remains the vegetable noodles — made from sweet potatoes, radishes, beets, zucchinis, and other vegetables.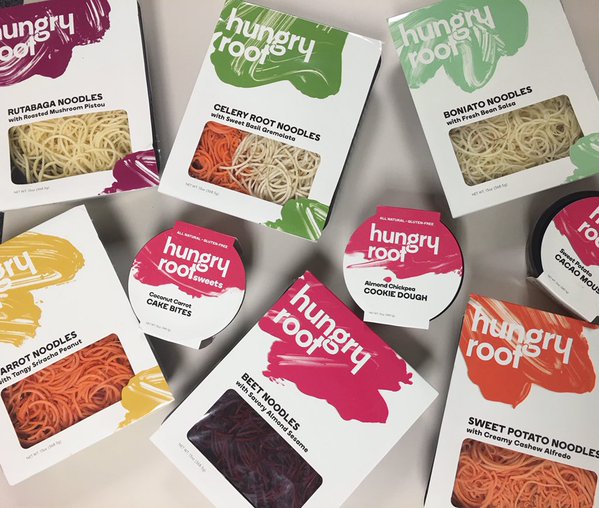 Enjoy pasta without having to feel the guilt
The pasta like dishes delivered by Hungryroot leave you impressed, satisfied and certainly not feeling guilty as they are made of vegetables like turnip and rutabaga. There are no preservatives added to the noodles and still they remain fresh thanks to the proprietary NATUREFRESH™ packaging that maintains farm-fresh crunch and flavor.
Operation
As of now, Hungryroot ships meals to all of the North East and Mid-Atlantic and most of the Mid-West and Southern States. Very soon, Hungryroot will start shipping nationwide. There are other plans also for creating some more types of healthy packaged meals in addition to the current manufacturing of just vegetable noodles, but the center of focus will remain vegetables only.
Let's take this wonderful opportunity turn to start adding more vegetables to our plate. Hungryroot will surely help us and all of the America to solve this problem once and for all.