Best VR headsets to go for in 2016, regardless of your budget
We are now entering in the age of virtual reality (VR) with an overflow of gadgets and content introducing throughout 2016.
The VR has been buzzing among us for last few years and the technology is just the result of years of imaginations and hard work. Finally the technology is at our doorstep. Some of this has taken long period of time in development such as Oculus Rift and some appear to be just arrived with the waiting time of our curiosity.
The concept of VR is not new. It's been transmitting in the tech world for a number of years, but lately, the technology has broken through few of the long-standing hurdles. Enabling access has helped, with gadgets like Google's Cardboard unlocking the door for anyone with a smartphone, right up to showing what a fully-grown premium system like HTC Vive will be capable of. We now have the power in home computers just like live virtual environments and this explains that this is a much more rousing time for VR.
So, without running around the point let's come to the point. We've listed some of the top VR devices available in the market. Some of them have not officially launched in the market yet, but it is really exciting to know about them. After all, you are going to see lot more of VR in 2016.
Oculus Rift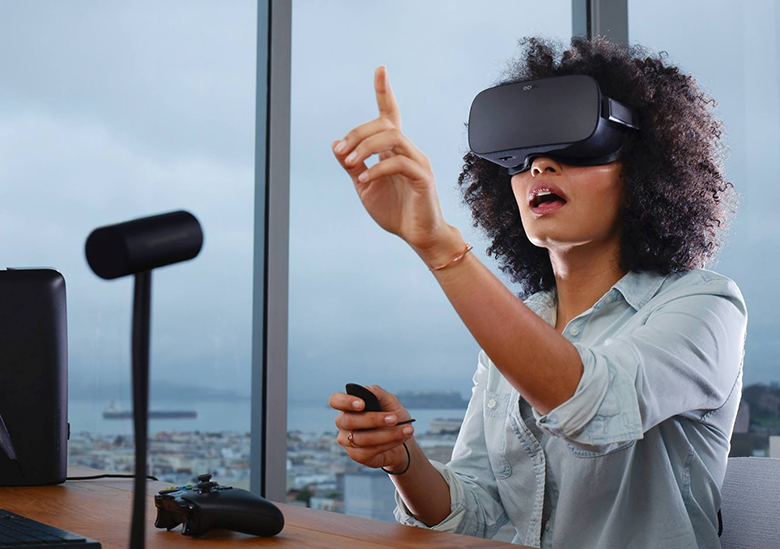 You must have heard of Oculus Rift more than any other VR devices, as it has grabbed most of the headlines when it comes to VR gadgets. Oculus Rift, initially introduced as a Kickstarter project, later the project obtained by the tech giant Facebook. It is one of the most interesting VR systems now available in the market.
The system made of a headset that's packed with sensors, providing a screen for each eye and balanced headphones. Oculus Rift comes with a camera to add more motion detection data. This VR, at first, ships with an Xbox One controller before the launch of bespoke Oculus Touch controllers in 2016.
The result is an acute VR system and, from what we've known so far, one that's capable of designing some mesmerizing VR worlds and experiences. Those who have pre-ordered the gadget are now receiving it. So, if you order now you will have to wait until August. We definitely puts Oculus Rift into the premium VR gadgets.
HTC Vive

Just like Oculus Rift, HTC Vive is complete VR experience, which needs a substantial PC to run. The device is also available in the market and while there were some shipping hold ups, waiting period is lesser than its direct competitor.
HTC Vive is slightly varied from other VR systems because it offers you freedom to walk around a room. While other systems will let you move slightly, HTC Vive works with IR sensors mounted on walls to direct your location in the real space, integrating this into the virtual world. That offers freedom of movement which other devices currently don't provide. The drawback is that you'll also need a big enough play area to utilize it in that manner.
The headset combines a range of sensors, presenting the efficient visuals to your eyes and you have to put on additional headphones to have the total experience. There are bespoke Vive hand controllers and their spots are also designed within the 3D space, giving lots of versatility when it comes to interactivity and immersion.
HTC Vive offers various kinds of experience, from climbing Everest to maintenance of robots in a Portal-style setting. But, the task of setting up the device is a tricky part, so sensor placement is most important. HTC Vive comes at the high cost of $799 in the US and £689 in the UK.
PlayStation VR

Earlier the name of PlayStation VR was Project Morpheus. The experts decided that the system is more for PlayStation 4 than PC.
Rather than providing a complete VR system, PlayStation VR is an add-on for the PlayStation4 games this suggests that it will be less expensive to own than gadgets such as Oculus Rift or HTC Vive when it comes in October of this year.
The device itself will be just $399 (£349) – a lot less than equivalent competitors – and the fact is that the console is less costly than a high-end gaming PC.
PlayStation VR comes with the same technologies as the others; however its screen resolution is not as good as those come in with Oculus and HTC.
It traces motion of your head and uses the PlayStation Camera, in alliance with your regular PS4 controller or PlayStation Move motion controls, to give the feeling of Virtual Reality. This is an add-on of your PS4, which is probably to see it as a simple VR choice for most.
There will also be lots of content available from launch later in 2016. PlayStation VR Worlds has many mini-games, including the London Heist portion we've played in the past. Other games will also be available like The Playroom VR and RIGS.
PlayStation VR eliminates plenty of hurdles to virtual reality because it's not a device of its own but an accessory to an existing platform. We wish to hear even more as the year go by. PlayStation VR is going to bring an outstanding experience for game lovers.
Sulon Q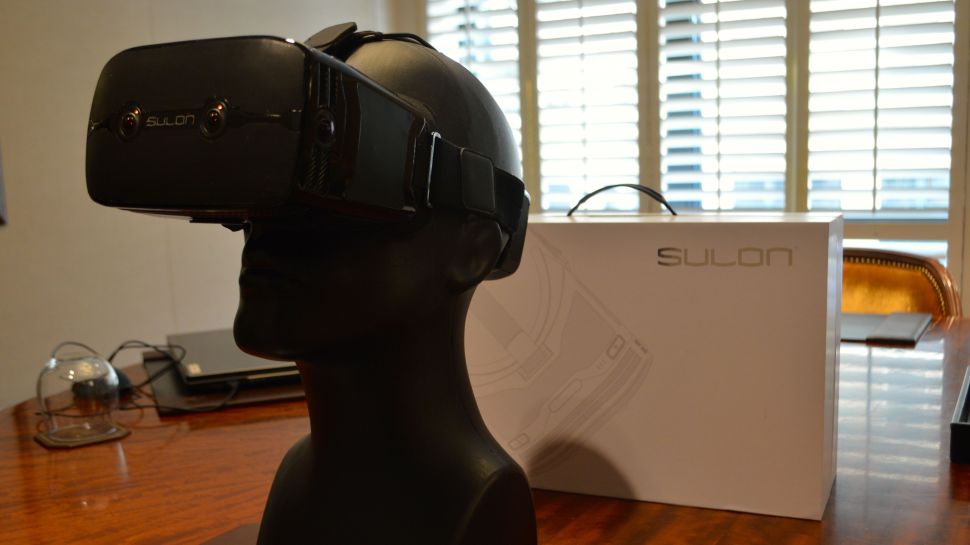 The Sulon Q VR gadget was introduced during GDC 2016 in San Francisco and it could be the biggest rival of Oculus Rift and HTC Vive in that it works with Windows 10 PC design. Unlike those devices though, it doesn't require a high-end PC to run and is totally "tether-free".
Sulon Q comes with an in built processing power. It uses AMD technologies to run "console-quality" applications and games, and there is no need to connect any wires into a different box or system.
More to virtual reality uses, there are lenses on the gadget that allow the user to use greater reality applications too, just like the way to the Microsoft HoloLens which we have explained bellow. These can turn computer graphics into real-world items.
Sulon Q has in-built ear buds that give spatial 3D audio and implanted noise-cancelling microphones enable voice chat without any requirement of a separate mic add-on.
It will take some time for the gadget to arrive in the market. The price of Sulon Q is not yet announced, but we expect it to be more on the higher side.
Samsung Gear VR
Samsung came into the space of wearable technology, especially the Virtual Reality industry, way earlier than others, with introducing the Gear VR headset, created to support a smartphone, rather than requiring the connection to a PC. The device is co-developed with Oculus.
Gear VR has been in the market with a couple of versions, supporting a number of various Smartphone devices from the same company, with the phone elegantly sliding into the front tray.
Internally there are lenses to divide the display between the two eyes and with Samsung's brand new devices providing a high resolution experience, this translates into well organized visuals.
Samsung Gear VR has been used in few of commercial settings, such car showrooms, but with Samsung providing a range of content from Oculus, it's an obvious option for the users of Samsung phones.
Samsung Gear VR comes around the price of £100, and also with an optional controller too, which you can have it for nearly £70.
You'll require making sure it's going to fit your selected Samsung smartphone, however, with the newly introduced Galaxy S7 and S7 edge handsets are considered to be the best. Gear VR unlocks the door to mobile phones.
OnePlus Loop VR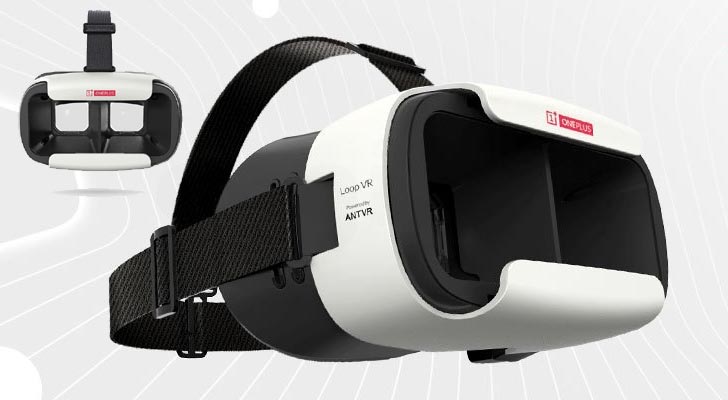 OnePlus, a Smartphone manufacturer company has the similar device to the Samsung Gear VR in the appearence of OnePlus Loop VR. Both the gadgets look same but Loop VR can work with most of the handsets between 5 to 6 inches" another difference between Loop VR and Gear VR is that Loop VR doesn't contain any onboard hardware.
The device comes with a comfortable head strap. Just like Gear, you need to slide the phone in the front tray which is padded. In several way it gives the feeling of a posh version of Google Cardboard, however the thing is that Loop VR has no buttons and so it is not comparable with Cardboard.
The most important difference in the OnePlus Loop VR is that it is available at free of cost, or used to be free. OnePlus manufactured 30,000 devices and they were available on the basis of a first come first served, but almost all of them sold out immediately. The company applied only shipping charges.
With a technology point of view, Loop VR is not very impressive. It comes with orthoscopic lenses and 100-degree field of view, but the main purpose, the experience, is all done by the phone, including movement sensing. So, the experience is all depends upon the versions of your phones.
The company would definitely like that to be the OnePlus version 3 when it is in the market, as this device is presented as the partner for the virtual launch of OnePlus' next device.
LG 360 VR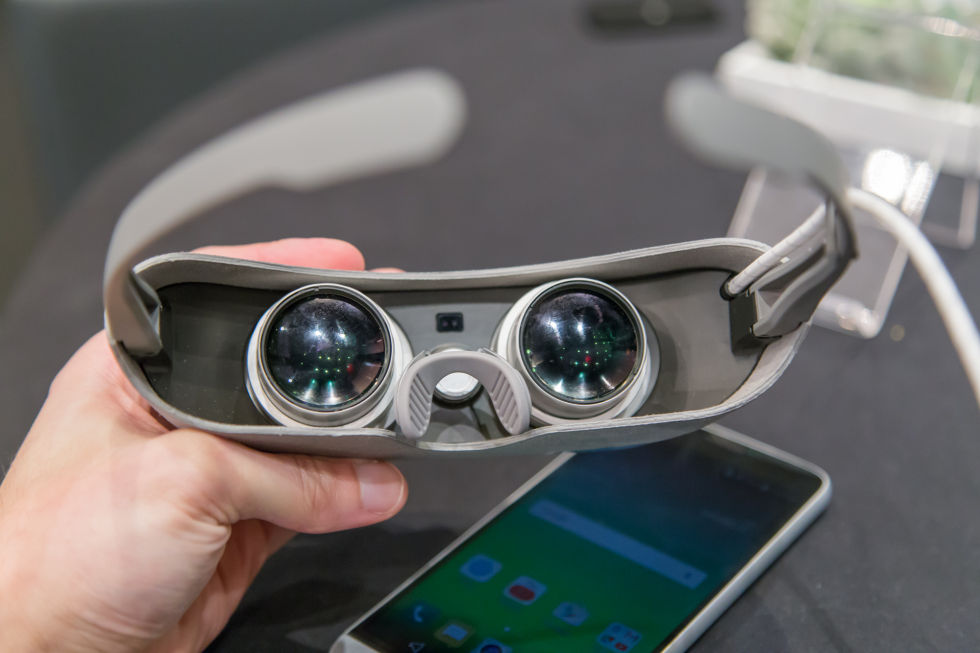 The LG 360 VR works when you attach the device to your LG G5 via the USB Type-C cable. To experience the Virtual Reality in this headset, you are not required to slip your phone in front tray.
It turns into a form of glasses, which you can put on more comfortably than others. The plus point is that you don't need to hold the device to your face all the time like others and so, it is better than other basic systems.
The LG 360 VR offers the display for both the eyes. The device offers in-built 1.8-inches IPS inside displays. It gives the resolution of 960 x 720 pixels, resulting in 639ppi.
Lenses behind the displays can automatically focus. Also, the width can be adjusted with convenience of the face and it produces stereoscopic vision.
The LG 360 VR also has the controls for your VR environment. It has ok and back button as basic navigation. Otherwise, it comes with movement sensors, to enable you to look around the virtual world you're in.
LG 360 VR headset has a 3.5mm headphone socket underside. When you don't use the button, the sound will come out of Smartphone.
The LG 360 VR is already in the market and available at some retailers, the cost is around at £200.
Google Cardboard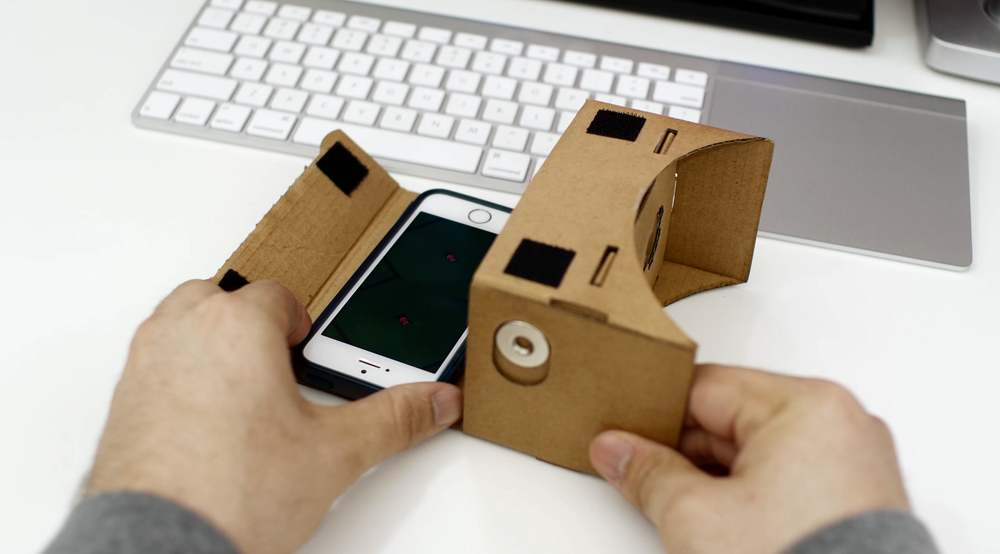 In 2014, Google has introduced its first Cardboard container in which Smartphone users can slide their phones into it. There are two best things about the Google Cardboard. One is that the hardware price is very low, often free. The second best thing is that it can be used worldwide, as it supports long range of Smartphone models.
According to the Google, the company has shipped over five million Cardboard viewers. It enables people to VR content without having to invest in a more substantial system.
Google also provides various ranges of applications for Cardboard and has focused on VR for future investment and development.
The device is really an ad hoc VR viewer: It does not offer head strap and if it does it would be very awkward to wear, instead it has prepared to hold near the face for watching the content.
There are varieties in apps for viewers' pleasure; it also offers the view of 360 environments like Google Street View or watching 360 degree videos on YouTube. It is perfect and if you are unfamiliar with this technology, it is a good place to start with.
Google Daydream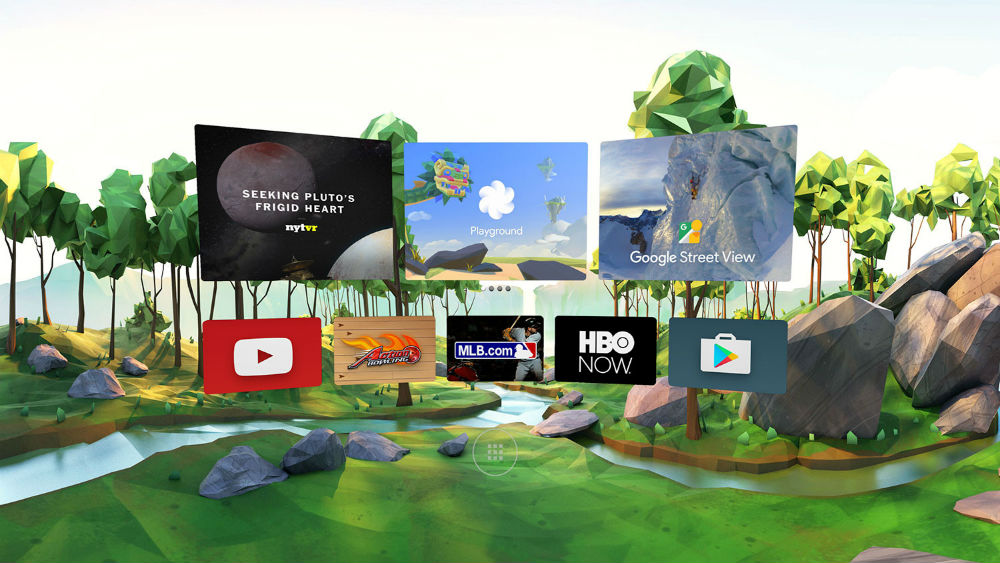 Google Daydream is similar to the Google Cardboard, but it is a next generation VR from the tech giant. Cardboard was more related to accessibility and preparing the base for VR content with the use of your Smartphone. Daydream is future oriented as it works towards the better technology for Google and Android virtual reality.
Daydream was declared at Google I/O and will be available in late 2016, with Google saying that Daydream was to be a combined part of Android N – the next version of Google's mobile OS.
Daydream will make some basic alteration to the Android VR world, outlining a minimum spec for Daydream instruments and offering a reference blueprint for the hardware, launching, for the first time, a spec for an independent controller.
We've noticed the previews of a lobby system make the device be smoother to navigate around VR content and it's been assured that the entire range of Daydream certified devices and add-ons will introduce later in 2016.
Zeiss VR One and One GX

Zeiss, a Germany based Optics manufacturing company has its own virtual reality device that can turn an Android or iphone devices into an immersive 3D experience. Zeiss VR closely resembles the Samsung's Gear VR headset, but with design made for all. The VR One provides a tray to hold your Smartphone and you'll require the suitable tray for your handset such as Xperia Z5, iPhone 6, SGS6 and so on.
The VR One will run with any app that is designed for VR devices like Cardboard apps, producing two images, so that each eye remains independent and enables for a 3D experience. The VR One also comes with a head strap and the One GX, like Cardboard, is made for holding to your face. Around £110 is the market price of the Zeiss VR One.
There are several more systems like the Zeiss VR that will run with phones in different forms and provide a similar approach to VR.
Homido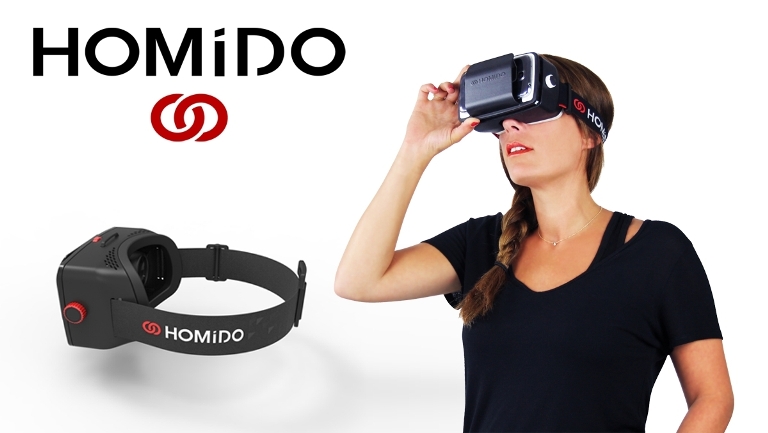 Homido comes under the same category of Zeiss VR One, which offers the more decent piece of hardware, but work in the similar manner of Google Cardboard.
In Homido, the front side has a sprung section for sliding your Smartphone into it, and you can then strap the device to your head for experiencing the Virtual Reality.
The plus point is that it is available at very low cost, so you can have the VR experience for around £50 and now it is easily available.
Last but not the least, Microsoft HoloLens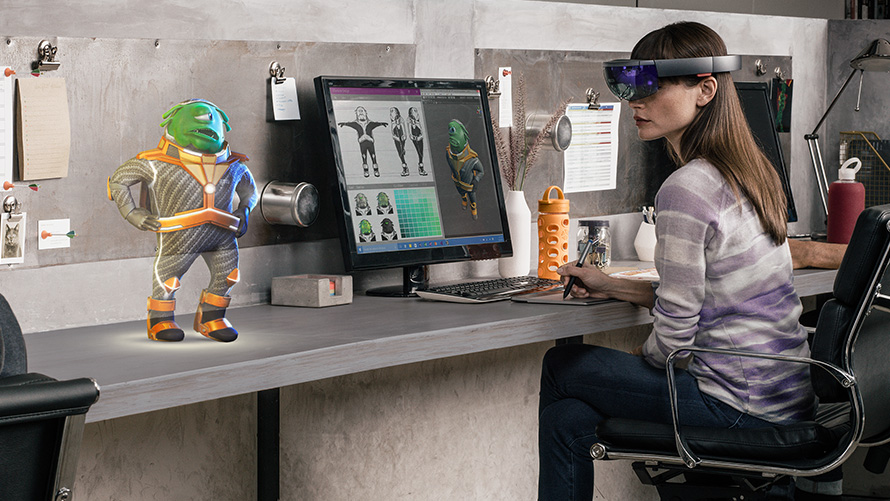 The tech world was surprised when world's leading tech company, Microsoft stepped into the world of virtual and augmented reality.
It disclosed that the Microsoft HoloLens headset, which runs with Windows Holographic, a technology that includes 3D images in the world around all of us. If see from the technical point of view, it more of an augmented reality than virtual reality, however, it is competing in the same area as some of these other.
Microsoft expected to launch augmented reality objects into every detail of the real world. Obviously, that is not the result, but the technology allows users to see holographic images overlaid onto real objects in front of them. A full Windows 10 system is built into the device and so it consumes more battery.
The headset shows digital images into your real-world line of view. It looks like the unreal person from the displayed images is standing with you in the room. Using Kinect-style tech to identify gestures and voice instructions, the system offers a 120-degree field of vision on both axis and produces high definition visuals.
It is a future oriented project of Microsoft and right now the company has only released a Development Edition.