Dart | World's Smallest Laptop Adapter | World's Smallest & Lightest Laptop Adapter
With the need of working on laptops for long time, you have to carry heavy laptop bag with you because of bulky adapter in it or just separate adapter and wrap it after unplugging.
As with the time new technology, new laptops, new smartphone, new tablets getting launched with lots of new and new features. So why not their adapters???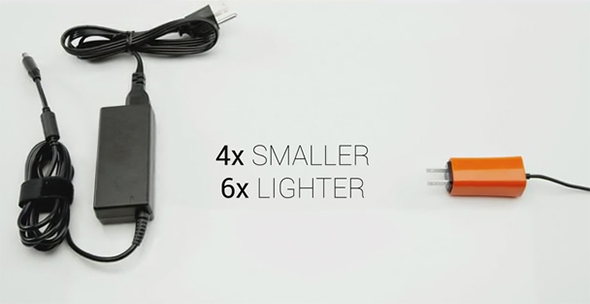 What if something gives you relief from such heavy brick i.e. bulky adapters. An adapter gives you flexible cable  which is no more bulky and it is Dart : World's smallest Laptop Adapter.
FINsix bring this smallest & lightest laptop adapter that can charge your devices. Dart is 65W i.e. provides you 65w of power. A charger that works as your regular adapter and can fit into your pocket as well. This adapter can be used with any PC brands except MacBook and keeps the laptop cool while using it.

It has 2.1A USB port at the end which allows you to charge your tablet and smartphones as well. Very small, light and takes very less space on power strip. It is six time lighter and four time smaller than regular adapter.

Price of this laptop adapter is $89 to $110 and it is available in five colors Blue, Orange, Silver, Gunmetal and Magenta with brushed aluminum finishing.