The Dropbox

We would define Dropbox as a simple online virtual storage utility allowing user to make his/her files accessible from almost anywhere in the world.
Using Dropbox on one's computer is just like using any other folder on one's hard drive, except the files one  drag into one's Dropbox folder sync automatically online and to any other computers or mobile devices linked to one's account.
The Dropbox application runs in the background and automatically keeps user's files in sync and backed up online. We can say that it's like having the same folder on all our computers and mobile devices at the very same time.
So now, we don't need to do tiresome job of e-mailing files to ourselves and carrying around flash drives.
How Dropbox Works?
Once installed and connected to the server and then the Dropbox interface creates a special folder on all your devices, be it PCs.Laptops, iPads or mobile phones. You have to drag and drop for moving  files around. Files or folders i.e. uploaded to Dropbox will immediately be synchronized into your account. In addition to this, Dropbox also takes care of every single change made to the storage content and changes are updated instantly to all computers that are linked to account.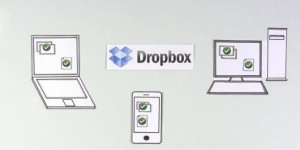 The Dropbox tool runs perfectly on Microsoft Windows, Mac OS, Linux, Android OS, iOS, BlackBerry. You can share 2 GB of your files for free or upgrade to Dropbox Pro for 50GB of storage.
The shining factor of Dropbox is the way it allows us to share whatever we want with other people. Each individual folder can be shared with other people and every member of a shared folder will be able to add, edit, and delete the contents inside. But, they will not be able to access anything outside that specific folder. This is a perfect file sharing system for team projects involving music or video editing, computer and system repairs, or for anything which needs collaboration among its members.
Also, a public folder allows sharing files with non-Dropbox users using a hyperlink.
Dropbox! For what?
Suppose, you have occasionally forgotten the drive with your home assignment or  you need to access your business presentation from home or a hotel or you are too mobile to keep all the important pictures, videos, documents and other materials at home. Dropbox will save your time and efforts in all these cases. Just get connected to the service and you can access to your files from any place in the world.
Dropbox Functionality
Dropbox can store files of any type, whether it is video, audio, clip-art, documents, photos and so on.
Dropbox synchronizes any file you edit with all your devices assuring you that you will find it the way you left it on any of your devices.
Dropbox also provides revision history i.e., it saves all editions and reposts made within 30 days and allows recovering a deleted file.
And yes, sharing files with others is an important functionality that Dropbox provides.
Security Feature
Dropbox takes very seriously the security of your files. Your files are backed-up, stored securely, and are password-protected.
Dropbox doesn't allow other Dropbox users to see your private files in Dropbox unless they are deliberately invited or you put them in your Public folder. Everything in your Public folder is, by definition, accessible to anyone.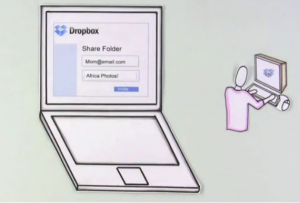 Dropbox employees are prohibited from viewing the content of files you store in your Dropbox account, and are only permitted to view file metadata (e.g., file names and locations).
With Dropbox You don't need to bother about the protection of your files.
Dropbox keeps a one-month history of your work.
Any changes can be undone, and files can be undeleted.
Secure Sockets Layer (SSL) and AES-256 bit encryption.
Using Dropbox
Dropbox is a very good data backup service with solid sharing and syncing abilities. Dropbox is like any regular folder on your computer where you can keep your data, but has a  twist – every file that you put in your Dropbox is automatically backed up to keep it completely safe and secure.
Once the filed are put in the Dropbox:
The files will be backed up and kept safe.
They will be accessible from any computer or any such device.
Your stuff can be easily shared with other people.
Your files, anywhere
Any file you save to Dropbox also instantly saves to your computers, phones, and the Dropbox website.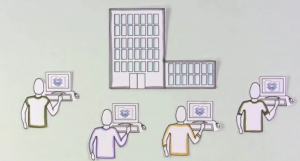 Your files are always available from the secure Dropbox website.
Dropbox transfers just the parts of a file that change (not the whole thing).
2GB of Dropbox for free, with subscriptions up to 100GB available.
Works even when offline. You always have your files, whether or not you have a connection.
Dropbox on mobile
Apps for iPhone, iPad, Android, and BlackBerry keep your Dropbox at hand.
Edit files in your Dropbox from your phone.
Easily upload your photos and videos to Dropbox.
Bring your files with you when you're on the go.
Share freely with family and friends.
Thus, Dropbox is a quality online data backup service. Its also a good way to sync your files across your various work and home computers and mobile devices.
Your files can be shared for collaboration, store and share photo and video galleries, and your data will all be safely backed up on Dropbox's secure servers.
So,that's it about the Dropbox application.. Hope you too start using it!  🙂