Bill Gates | Life of Bill Gates
Bill Gates-An Overview of the Man's Life Who Revolutionized the Virtual World Forever.
Who is Bill Gates

??
William Henry "Bill" Gates III.
Bill Gates co- founded 'Microsoft Corporation' in 1975 with Paul G. Allen.
He is co-founder, chairman of Microsoft Corporation and one of the wealthiest persons in the world. He was continuously wealthiest person from 1995-2007 and in 2009. In the year 2013, he was declared richest person of the World.
Gate is the one of the well known entrepreneurs who played main role in the evolution of PC : Personal Computer.
Gates is not only Chairman of Microsoft but he is chairman of Corbis and Co-Chair of the Bill & Melinda Gates Foundation, CEO of Cascade Investment.
Birth and Early life of Bill Gates

::
Born in Lakeside, Seattle in 1955, Gates belonged to a family of businessmen, politicians and community service activists. Gates' great-grandfather was State legislator and Mayor while his Grandfather was vice-president of the national bank. Bill Gates' father was a prominent Seattle defense lawyer while his mother was the chairperson for United Way Charity and a school teacher.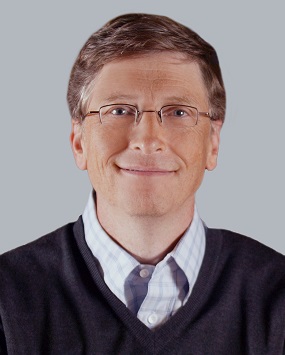 Education of Bill Gates

::
Gates' was an unusually bright child in school and he surpassed all his class fellows in studies. He especially excelled in mathematics and science. Taking note of this intelligence of Gates', his parents enrolled him in a private school called Lakeside School.
Later on in his various interviews, Gates reflects back to memories of Lakeside claiming that 'it was the best thing that ever happened to me'. Lakeside was known for its strict and tough academic environment. Gates' recalls that when he was thirteen, the school installed a teletype machine that connected in Downtown Seattle. He claims that this was where his fascination and passion for machines began and how he and his friends spent every free moment they got, working on this machine.
Gates was later accepted into the prestigious Harvard University. Harvard was the place where Gates met his now partner Paul Allen as well. The two became close friends and this led them to their obsession with computers. The duo spent hours on the computers developing programs and working. Unfortunately, however, their computer time was finished in a less than a year and neither of them graduated from Harvard.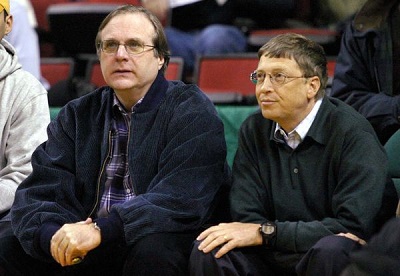 Career of Bill Gates

::
For any other student, not graduating from Harvard would have been the disaster of his lifetime but Bill Gates and Paul Allen, rather than letting this ordeal define them, benefited from it. They had more free time to devote their full energy to Microsoft, which they founded in 1975.
Gates and Allen had a vision that they could produce cheap computers that would be used in offices and maybe even homes. This vision led them to work day and night to develop the computer language BASIC.
BASIC was the first brick in an empire of many others. Gates and Allen never let any adverse opinion crack their dreams of personal computers even though wealthy silicon tycoons and computer companies scoffed at their ideas of machines small and cheap enough to be utilized at home.
Microsoft developed the first version of the famous 'Windows' operating system in 1985 with collaboration from IBM from where forth Windows has been developing rapidly. Microsoft revolutionized the virtual world both by software and aesthetics. Today, not only do we have computers that process information in 100th of a second, they are portable and easy to carry and some even fit in the palms of our hands.

Bill Gates as a philanthropist

::
Bill Gates also donates heavily to charity. Gates is as famous for his random acts of kindness to individuals and groups/institutions as he is for his work in the field of computers. Even though there have been numerous scandals about Gates only donating to companies that pollute the environment and induce poverty and oppression, these have been rebuffed by his practicality.
Gates donates generously to students who work while they study and also to poverty stricken countries. He even lost his status as the richest person in the world on Forbes list of wealthiest people due to donating heavily. Even though Gates donates so freely, he is one of the most successful young business men, innovators, programmers and philanthropists. Apart from this, Gates is also the author and co-author of several books.
Bill Gates is an idol of inspiration and a metaphor for success for anyone who wants to excel in any field.