History of Lawrence Joseph "Larry" Ellison | Founder of Oracle
Some Organizations, Some People not only work for themselves, but for others.
Oracle is the Database Management System which needs no introduction and has been serving as the monopolistic Database in innumerable organizations, Larry is one such man who laid the base of Database Management Revolution named Oracle.
Early Life of Lawrence Joseph "Larry" Ellison
Larry was born to a unmarried 19 year old lady on August 17, 1944 in The Bronx, New York.
His father was a Italian-American Pilot who was transferred abroad before his mother Florence Spellman knew about her pregnancy.
He was later adopted by her aunt-uncle and was happily raised by them.
He also had great affection and love towards his mother while his father was not that supportive.
Education of Lawrence Joseph "Larry" Ellison
As a student he was inclined towards maths and science.
Larry did his graduation from Eugene Field Elementary School in 1958.
He dropped the University of Illinois at the end of his second year because his adoptive mother had died.
He later joined University of Chicago where he came across computer subject for the first time.
Career of Lawrence Joseph "Larry" Ellison
Initially Larry worked a bit for Amdahl Corporation,
Later he joined Ampex Corporation where his project was to create a database which was having code name "Oracle"
Larry was highly influenced by the paper "A Relational Model of Data for Large Shared Data Banks" and getting inspired from the same developed a company in 1979 named Relational Software Inc which was renamed to Oracle Inc. after the launch of their flagship Oracle Database.
The company also faced hard time in mid 90s and later in 1997 Larry was made director of Apple when Steve Jobs re-joined Apple, but he resigned from Apple in 2002.
Larry also invests some capital in the market, he has invested into ventures Salesforce.com, NetSuite, Quark Biotechnology Inc. and Astex Pharmaceuticals.
Married life of Lawrence Joseph "Larry" Ellison
Larry has been married and divorced four times uptill now.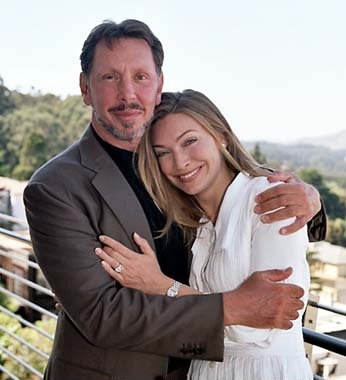 • Adda Quinn 1967-1974
• Nancy Wheeler Jenkins 1977-1978
• Barbara Boothe 1983-1986
• Melanie Craft 2003-2010
Personal Life of Joseph "Larry" Ellison
Larry was a close friend of Steve Jobs and Jobs was the official photographer in his marriage with Melanie Craft.
Larry also owned lavish cars, styled house and a private jet.
But at the same time Larry has always donated millions of $ for charitable purposes and has also proposed to Federal government a software that would enable them to build and run a national identification database and would help in issuing ID Cards.
Awards and Credits for Larry
In 2000, Forbes listed Larry as the world's second richest man and there are many such awards and credits to his name.
Today every 3 out of 4 Big Organizations rely on Oracle for their Data Management, and ofcourse the credit of laying that founding stone goes to none other than Larry.
We seldom get to see such personalities,
Regards,
Deep Bajaj