Oppo Find 7 Smartphone | Oppo Find 7 : World's First 2K Mobile
With the rising of days, new technology is also rising which are more & more advanced and that is pushing us to forward.
Lets talk about the new technology in SmartPhone. As sometime I think that almost all the innovation in smartphone is done but this is endless…..
Some day ago, we had seen one such innovation in technology i.e. OPPO N1 : world's first SmartPhone with Rotating Camera . "Return to Innovation".
And before that we had seen Nokia Lumia 1020, a windows Phone 8 device having 41 megapixels camera.
What Oppo Find 7  can do
Lets see one more such innovation by Oppo Mobile : "Oppo Find 7 Smartphone with plenty of pixels (50 MP)".  This smartphone will give competition to Nokia Lumia 1020's 41 MP camera.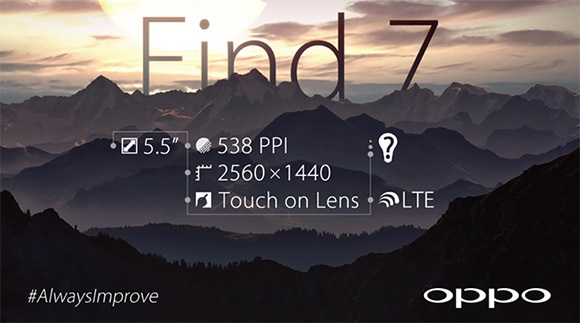 Specifications of Oppo Find 7
Camera of Oppo Find 7 has 5.5 inch with QuadHD display (2560 * 1440 resolution) with plenty of pixels. Oppo Find 7 is world's first mobile with 2K screen. This smartphone has 13 MP camera but it gives result like 50MP camera.
2K screen on 5.5 inch smartphone, 538 PPI
QHD (Quad HD) display with 2560 * 1440 resolution
13 MP camera which gives photos like 50 MP camera
Vooc  i.e. four times faster charger (A 30 min charge give 75% battery)
MaxxAudio technology for awesome sound and clear audio quality.
3 GB – DDR3 RAM and supports 128 GB storage via microSD
Build with Solid titanium alloy frame with carbon fiber rear
Shoot 50 MP Photos with the Super Zoom multiple shot feature.
Price $599 onwards.